above: Caliyah Parker, 11, 2020. Oil on panel.
This April, the interns at the Halsey Institute will be interviewing a small selection of artists included in Young Contemporaries 2020. In this post, Grace Edson interviews artist Caliyah Parker.
View the virtual exhibition here.
---
On March 27, the Halsey Institute of Contemporary Art displayed the 35th annual Young Contemporaries exhibition virtually. Due to the spread of COVID-19, the exhibition is currently only-online but the artists and their works that are featured in the exhibition need not be forgotten. I was lucky enough to interview one of my fellow interns, Caliyah Parker, about her two works that were accepted into Young Contemporaries and learn more about her as an artist as well as her pieces.
Caliyah is a senior at the College and she is a Studio Arts major with a double minor in Art History and Arts Management. She is from Seneca, South Carolina and she states that she has always wanted to be an artist. She says, "I was one of those kids who decided as a 5 or 6-year-old that I was going to be an artist and actually managed to keep the interest all the way through high school and into college." Caliyah's two works of art, As Above and 11, are both oil on panel but she states, over the course of her college career she has gotten the opportunity to work in many different mediums but as of now, her primary focus is oil painting. She states that she has "gotten used to working with oils in college and now it feels like [her] most fluent medium, though occasionally [she] uses watercolor for sketches or acrylic for under-painting."
Both of her pieces in Young Contemporaries were created in 2020 and were originally supposed to be a part of her senior thesis exhibition. As Above and 11 are a continuation of an older series of hers where she states that she "was trying to explore the process of creating heavenly spaces in an abstracted form." In the original series, she stated that she was more focused on depicting "abstracted heavenly spaces," but for these two pieces, she "expanded the concept to also include a sort of narrative and internal mythology." Due to the focus on abstraction in both of her pieces, I wondered if abstract painting was her style of choice. She stated that, "given the choice, [she] typically tends towards abstraction in [her] paintings." She explained to me that through abstract painting, she is able to "better express feelings and ideas in [her] paintings when [she] removes the representational imagery that distracts [her] from what [she] wants to depict."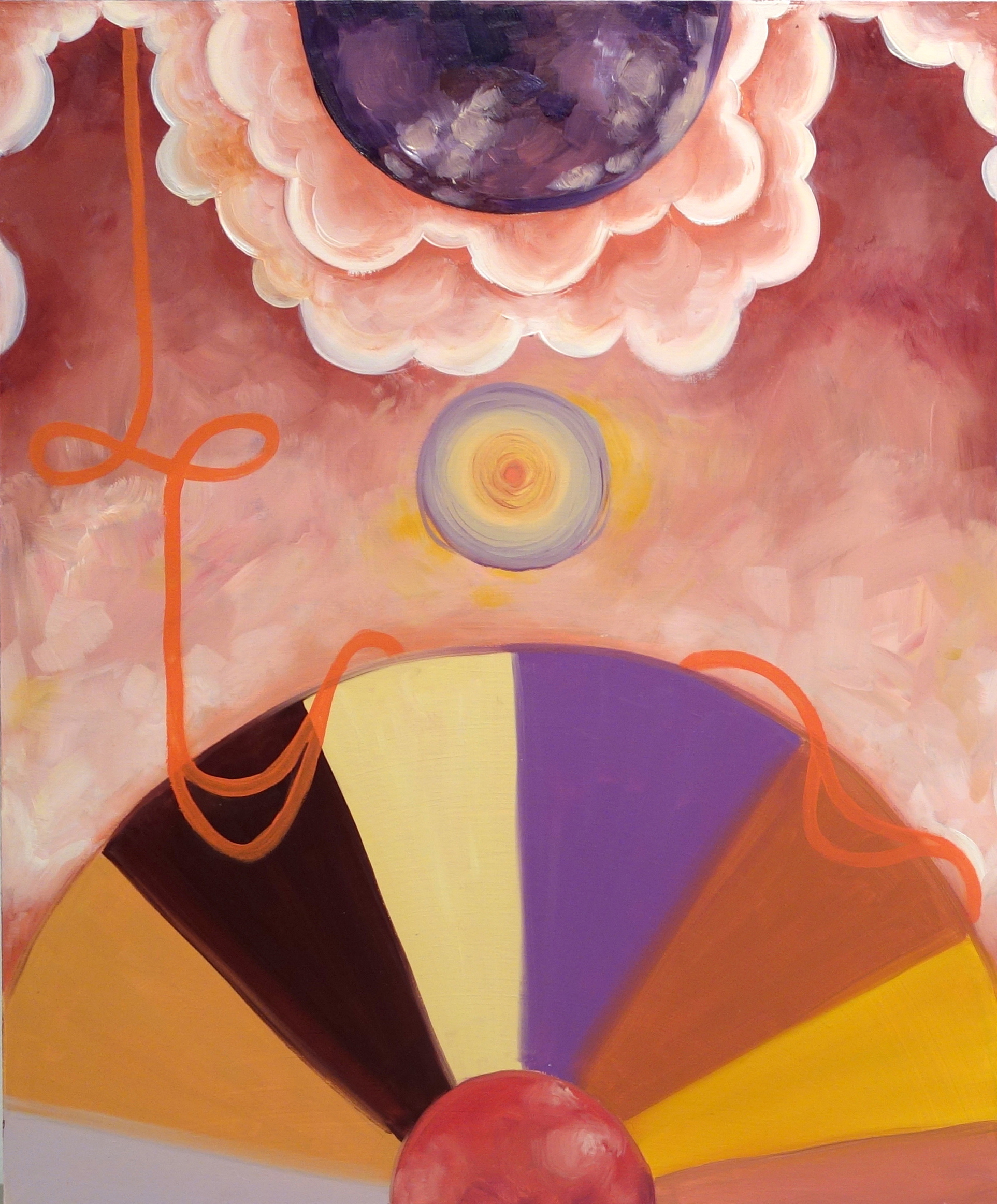 I was drawn to both of Caliyah's works due to the abstract style, the bright color palette, and the precision of her artistic ability, but I was also drawn to her works by the curiosity I felt and the longing to know more about these works and what they meant to Caliyah as well as the story behind them. I was particularly interested in the title of her works, As Above and 11 and was curious about the meaning behind them and if they had one. She explained that both of the titles were specific to each painting as they are "based on concepts that [she] wanted to encompass in the work as a whole." Her piece titled 11, is a painting that is meant to portray "the 11th hour", she states that it is "about a calamity and the moment right before a cataclysm." Her other piece titled, As Above, was named "for the aphorism "as above, so below." Being part of a continuation of an older series, both of her pieces are connected as she portrays "the idea of two inextricably linked entities, tied together by a looping orange thread."
As a viewer to her works, before knowing the story behind each piece, I wondered what she, as an artist, wanted other viewers to take away from her paintings. Caliyah responded to my curiosity as a viewer from an artist stand-point, stating that she is of the mindset that "[her] intention as an artist is secondary to what a viewer interprets in the painting." She further explained that she wants her paintings "to have a recognizable internal mythology and [she] want viewers to recognize [her] work as specific, but beyond that, [she] want[s] meaning and symbolism to be created by [her] audience."
I have been lucky enough to work beside Caliyah for the past three months as a fellow intern, and I am now luckier to know her as an accomplished artist as well. I am in awe of her work and excited to see her grow as an artist. Caliyah plans to continue living in Charleston post-graduation and keep flourishing as a painter.
– Grace Edson, Halsey Institute intern