In 2015 the Halsey exhibited works by Lonnie Holley, and in 2016 they included correspondence art by Ray Johnson in an exhibition. Both artists are very unique and highlight conceptual artists as object makers. The works displayed in their Halsey exhibitions are artworks made with nontraditional materials and processes. Johnson worked primarily with altered collages, while Holley works with found materials. Both artists work with materials that come from and have existed in our society previously. This relationship of materials and process linked to its cultural history allows the artists to explore a never-ending range of content because the final works become results of the artists interaction with the particular material.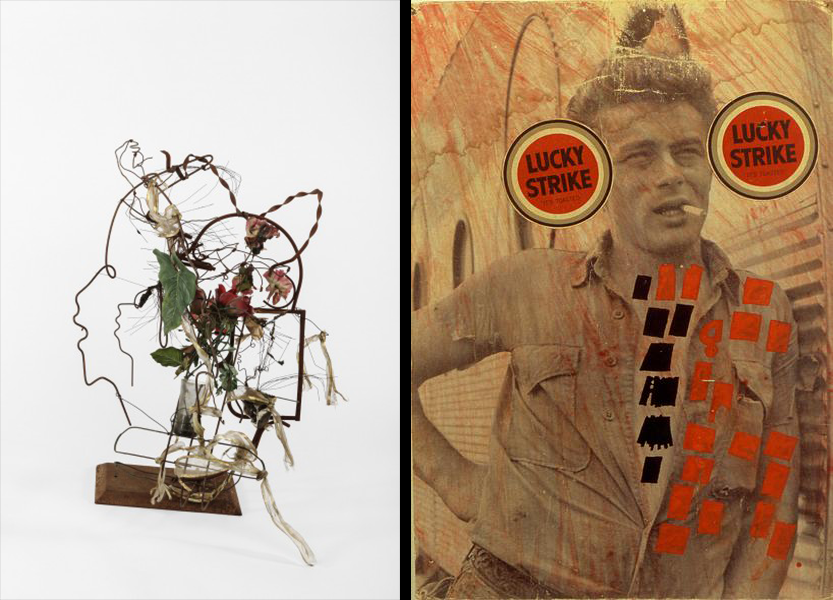 Left: Lonnie Holley, Memorial at Friendship Church, 2006. Right: Ray Johnson, James Dean (Lucky Strike), 1957.
Ray Johnson was born in Detroit in 1927 to a working-class family. He grew up with a formal arts education and in 1945 attended Black Mountain College. After studying under Josef Albers at Black Mountain College, Johnson made geometric abstract paintings, but by 1955 he had started to work with collaging materials, often using images cut out, rearranged, and represented. Johnson's early collaged objects he called "moticos," and with moticos, Johnson was interested in sharing and exhibiting works to the general public on the streets of New York City. He was very interested in and would often record the audience reaction. Johnson's means of sharing his work with an audience later shifted correspondence art where his works were sent through the mail to recipients who might be directed to alter and return or forward the work or keep it for their collection. He created a network of people participating in correspondence art and named it The New York Correspondence School.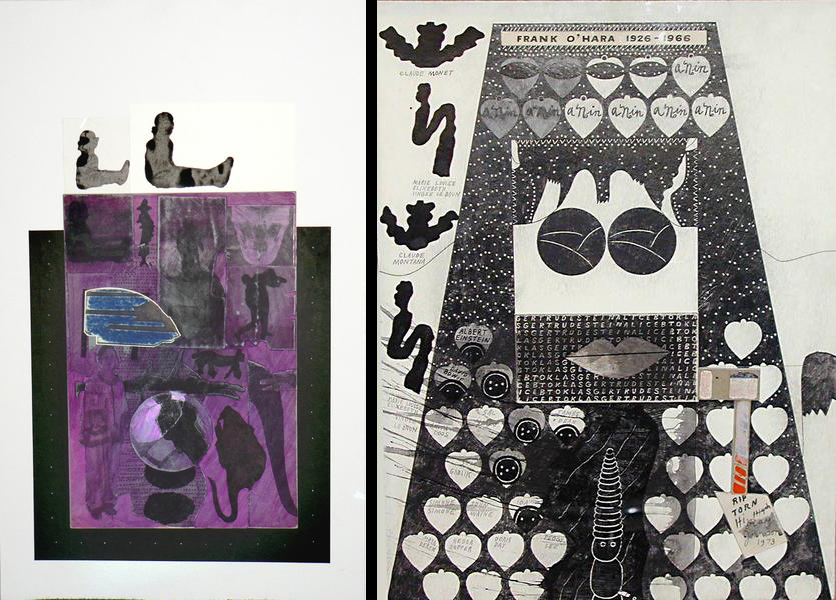 Left: Ray Johnson, Untitled (Seated Baby Moticos with Rat). Right: Ray Johnson, Untitled (Frank O'Hara).
Although Ray Johnson's collages were very hand crafted and presented as objects, ultimately, he was a performance artist where, arguably, almost all of his life was the intended performance. His decision to shift from making paintings to collaging expresses the developing conceptual ideas of Pop Art, by shifting to materials like packaging or advertisements they innately highlight consumption and celebrity. To Johnson, process and materials were part of the ideas to a piece. Working in collage seems like a natural extension of Johnson's performative approach to life because these works become his interactions with print media and repeated imagery, two things that during the 1950s, when he was beginning this work, were increasing in presence in our society.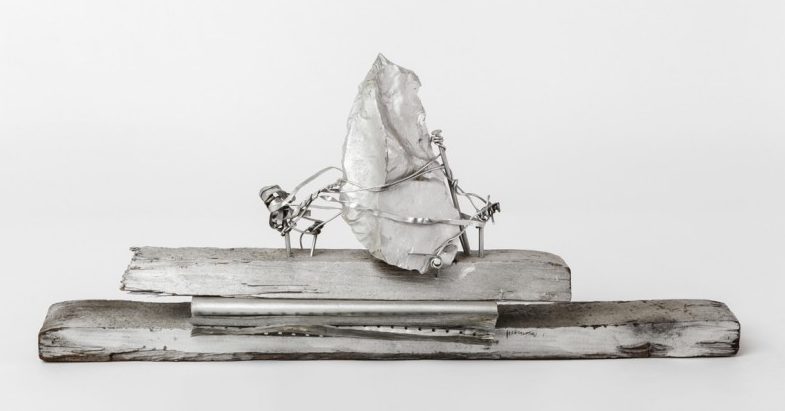 Lonnie Holley, Weight on the Paperwork, 2005.
Lonnie Holley was born in Birmingham, AL in 1950, the 7th of 27 children, traded for a bottle of whiskey at four, and by the age of five was having to work various jobs. His life has been filled with struggles, and he never formally received a traditional arts education. In 1979 Holley carved two sandstone tombstones for his sister's two children who had died in a fire. This inspired a life of creativity, and by 1981 he had shown works at the Birmingham Museum of Art and was living as an artist and musician which he still continues today.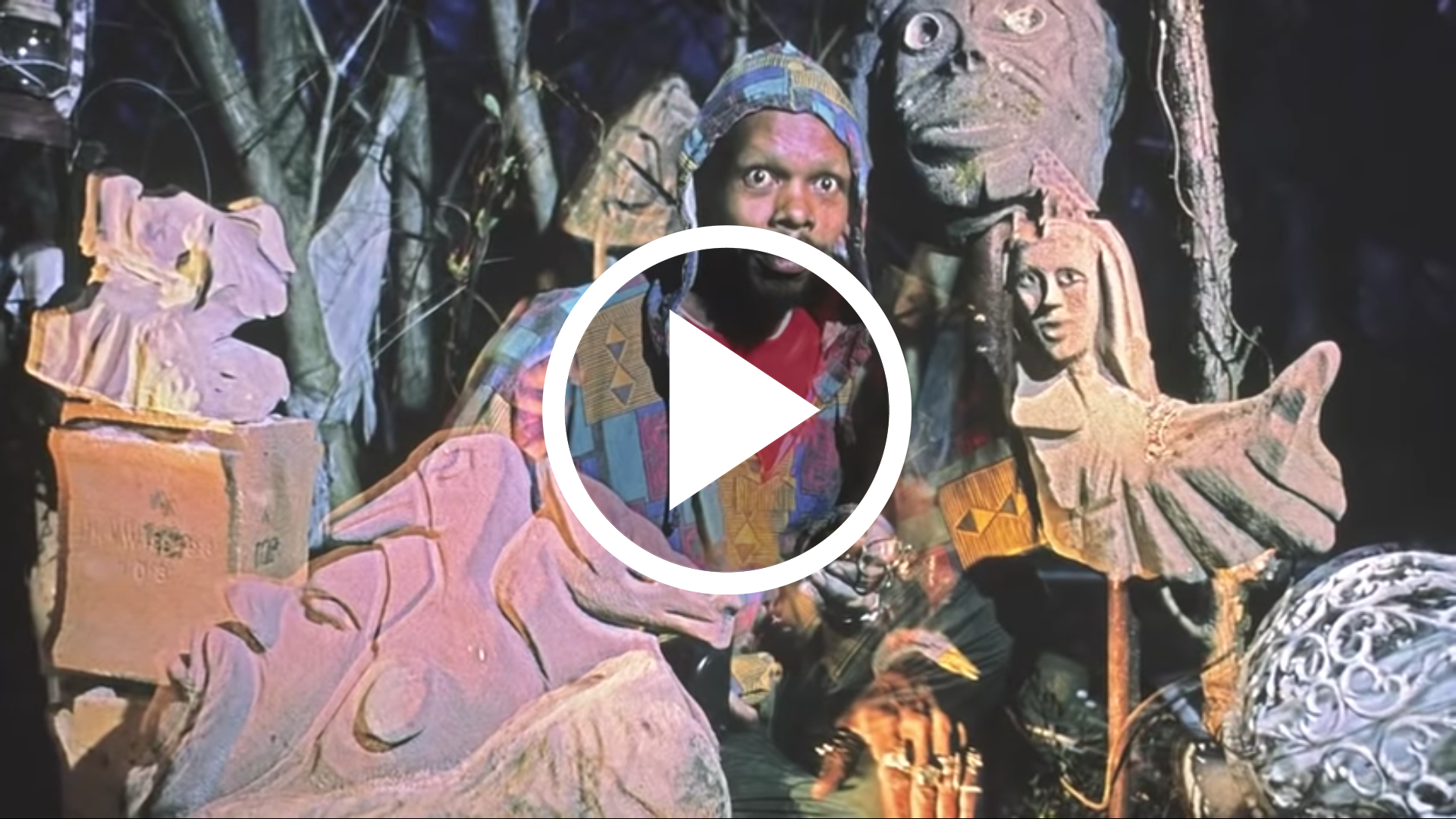 Music video for Lonnie Holley "All Rendered Truth" from the album Just Before Music, 2011.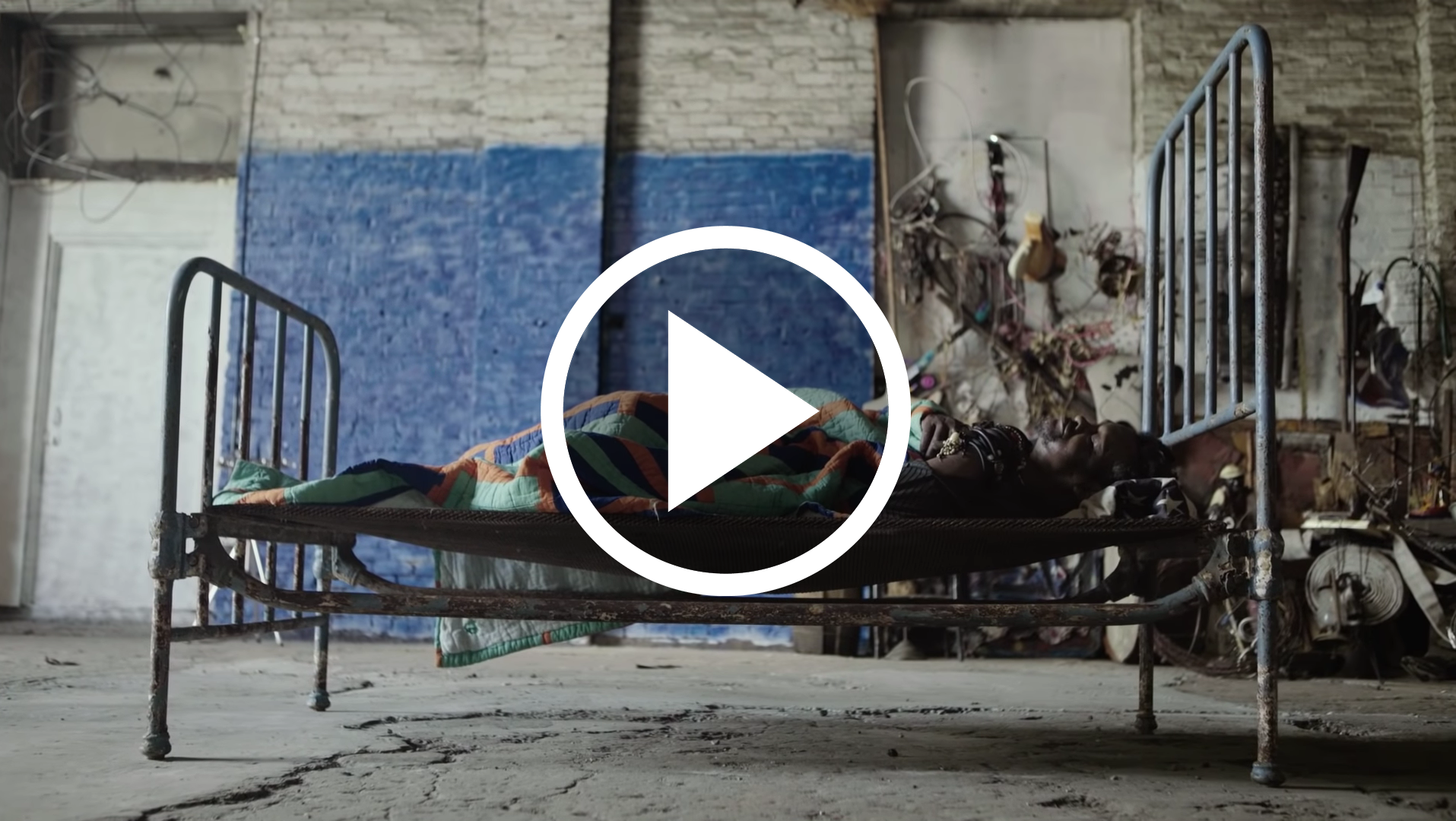 Music video for Lonnie Holley "I Woke Up in a Fucked-Up America" from the album MITH, 2018.
Holley's process involves using discarded materials to assemble objects in ways that make or reference ideas from the material. Holley uses "nontraditional" techniques and materials, but he also seems to challenge these ideas of assigning a material or technique as "traditional" because he believes artmaking can be made in many ways. Holley looks towards the skills found within his culture, and how they can be used in ways to literally and symbolically create object wielding messages. Holley thinks of his materials' origin, what does the act discarding the material mean, and what has happened to the material since being discarded. He finds ways of connecting materials to highlight relationships found in their presence in a piece.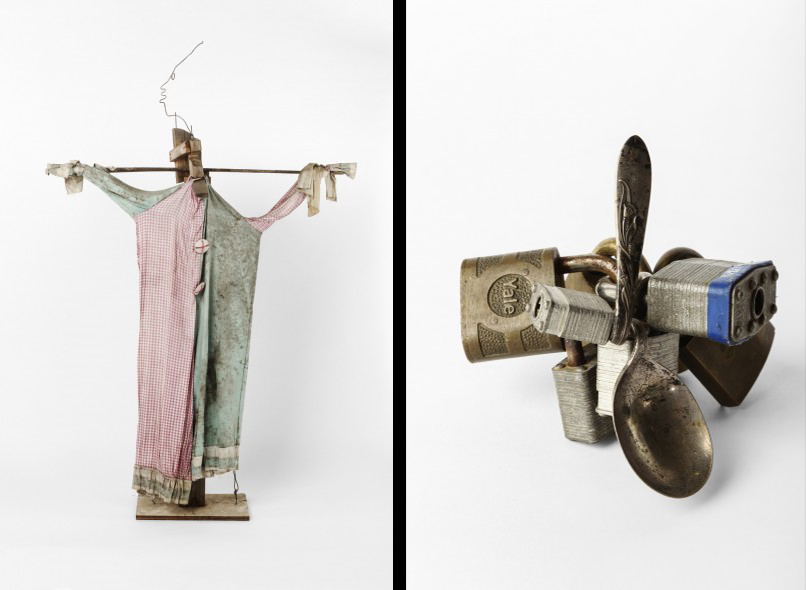 Left: Lonnie Holley, You Put the Clown Suit On, 1993. Right: Lonnie Holley, I Can't Eat Locks, 2005.
Both Johnson and Holley highlight how conceptual art can be impactful and executed with materials alone. When combined with both artists' processes, their work can be seen as uniquely their own. Their eye and thoughtfulness towards materials combined with their processes allow their work to become comments and reflections which I have found very impactful. I find both of these artists very inspiring and great examples of how art cannot be limited to traditional mediums and thinking.
By Andrew King, Halsey Institute preparator
Resources and Bibliography:
Film on Ray Johnson How to Draw a Bunny: https://vimeo.com/110857936
Ray Johnson estate: http://www.rayjohnsonestate.com/biography/
Lonnie Holley on his process: https://www.youtube.com/watch?v=MqnLeu7KQYo
https://www.youtube.com/watch?v=RB_T4_DCioQ
Lonnie Holley bio and works: https://www.lonnieholley.com/
Lonnie Holley in his Atlanta studio: https://www.youtube.com/watch?v=MkLi_4heZxA