Our fall 2022 intern Lydia had the opportunity to interview exhibiting artist Kirsten Stolle in connection with her exhibition Only You Can Prevent A Forest. As an artist herself, Lydia enjoyed getting to know Kirsten a bit more and sincerely appreciated her openness. We're sure that you can feel that for yourself as you read through their 10-question conversation.
---
Talking with an artist such as Kirsten Stolle is a treasure. She exudes grace, hospitality, and intelligence. During this interview, I wanted to gather more information on Stolle's process, goals, and achievements. I focused on questions that would provide insight into her studio practices rather than the artwork itself. This is due to the deep research that has gone into this exhibition. Even from a brief conversation with Stolle, you can gather that she has been researching her subject matter for years. How does this look on her typical day? How did she become interested in chemical companies? It was an absolute honor and pleasure to be able to ask these questions and learn more about her.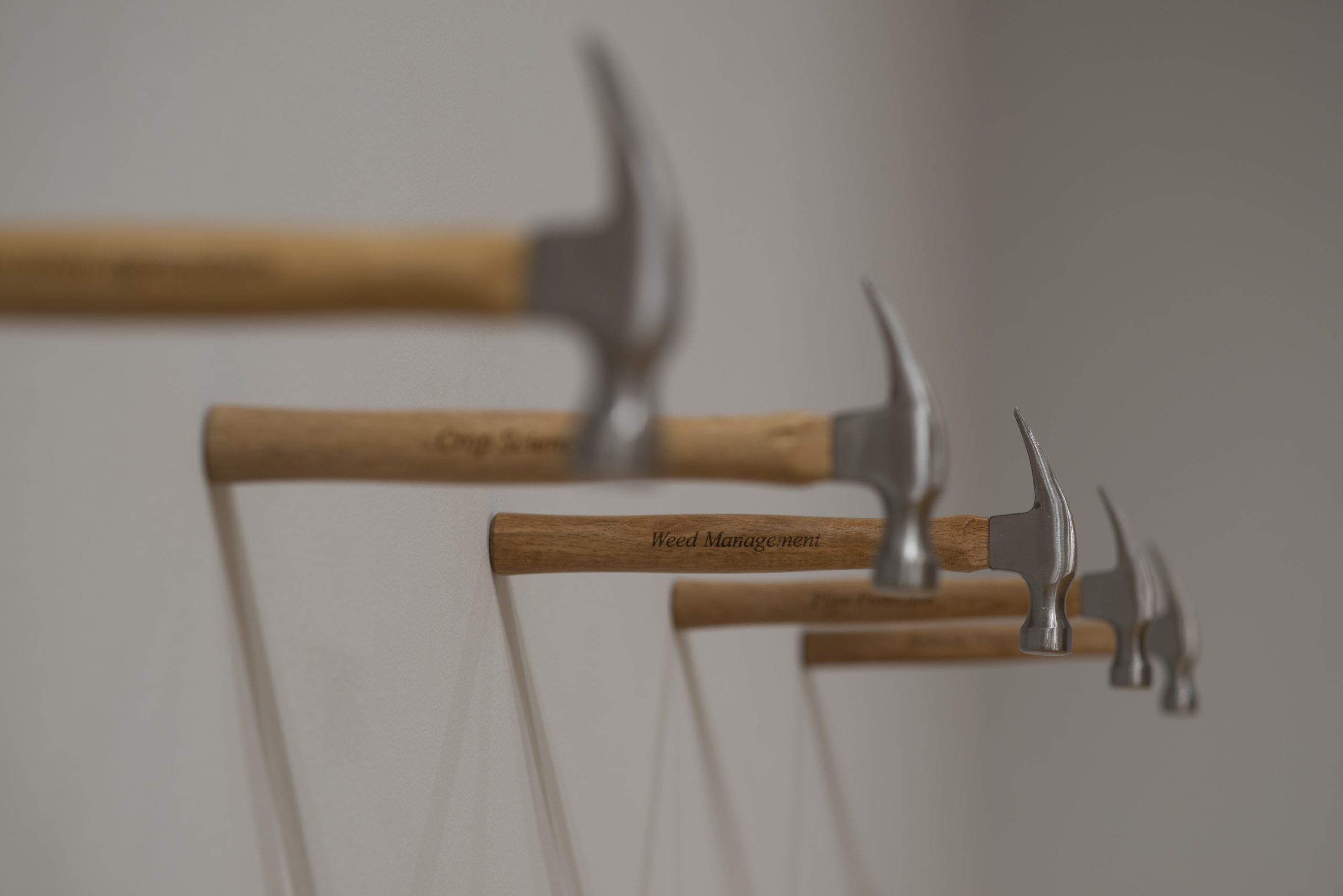 Lydia Chadwick: What draws you to art? How did you find yourself where you are today?
Kirsten Stolle: Creating art is one of the most compelling ways for me to get my ideas across. Visual art is an excellent vehicle to creatively reflect back on what is often too challenging or daunting to witness.
LC: Do you have specific ties to the subject matter? How did you become interested in this topic?
KS: I first became aware of Monsanto through my mother's activism in Santa Cruz, CA in the early 1990s. (Large puppet theatre protest against potential GMOs – for example, inserting fish genes into strawberries to protect strawberries against cold temperatures. Ultimately that technology failed). I was curious and, of course, alarmed by the thought that Monsanto, a company with historically deep roots in producing toxic herbicides, was developing genetically engineered crops to withstand high levels of chemicals. Certainly, as I began to dig deeper, additional chemical companies such as Dow, Syngenta, Bayer, DuPont etc. came to the forefront.
LC: How has your style changed over time? Is there a specific environment or material that's integral to your work?
KS: My early work centered on creating abstractions based on natural and human forms, using printmaking and mixed media as my primary media. It wasn't until I began to experience pesticide-related health issues, that I began to shift into making work based on my health and political concerns.
My work now focuses on the greenwashing efforts of agrichemical companies and their influence on our food system. I find original source materials, and use strategies like appropriation and redaction to respond and critique. My projects range from photo-based collages, text-based interventions, site-specific sculptures, manipulated audio pieces, and now neon! The mediums I choose have a direct relationship to the ideas I'm examining, and what is most important is to create pieces that engage both aesthetically and conceptually.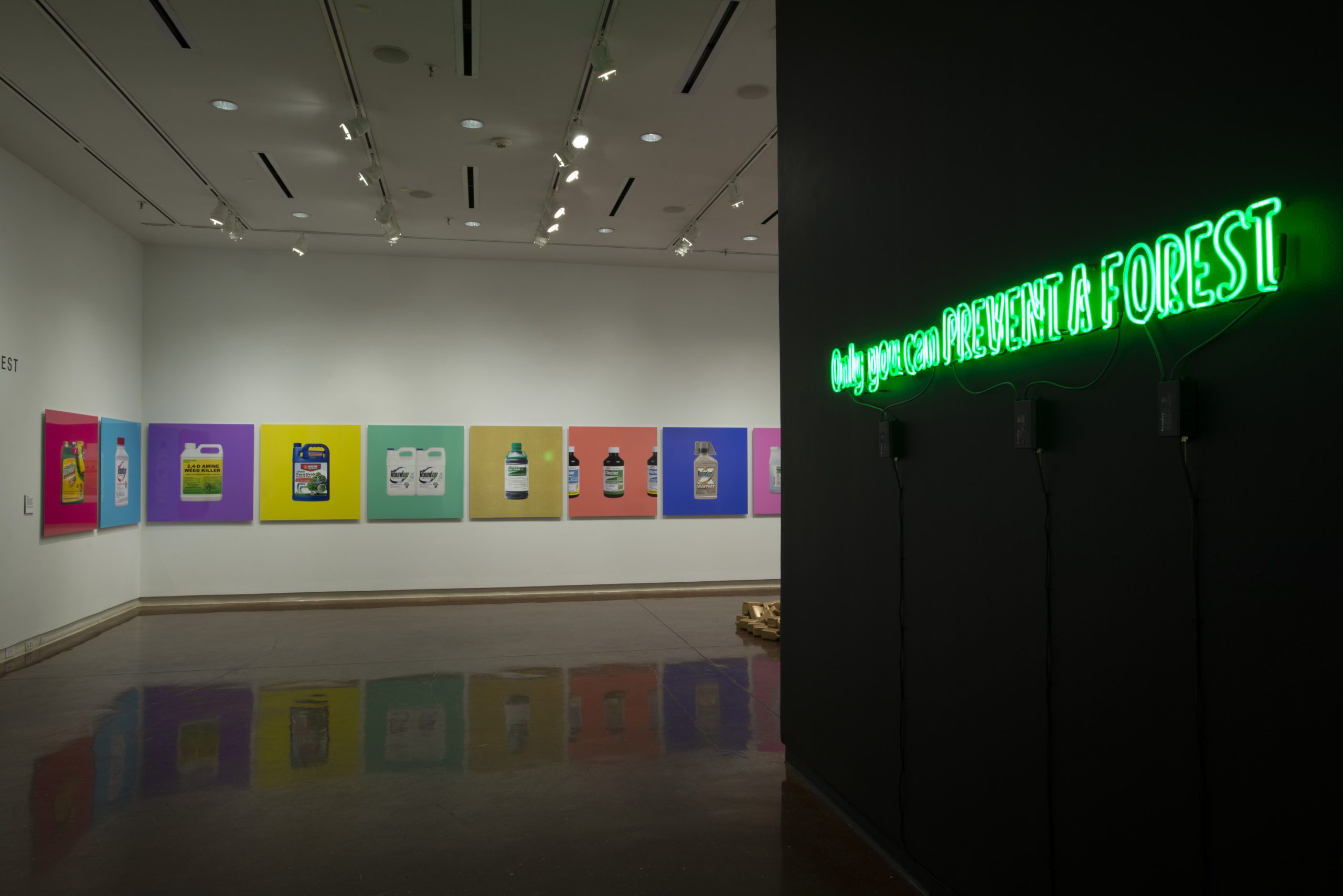 LC: How long has it taken you to plan and work on this exhibition?
KS: My first discussions with the Halsey curators started back in 2013, and I actively began conceptualizing the show in 2017.
LC: Do you have a personal favorite work within the exhibition?
KS: So hard! I guess I would have to say the bright green Only You Can Prevent A Forest neon piece, as it is my first try at a neon sculpture and really anchors the show. Conceptualizing the piece also enabled me to collaborate with neon fabricators to produce the final artwork.
LC: What do you hope a viewer gains from viewing your work?
KS: I hope viewers come to the work with a sense of curiosity. The themes I address hit upon relevant social issues, and can be challenging and uncomfortable, yet I hope viewers come away feeling moved, wanting to have a conversation. Ultimately, I hope my work encourages critical thinking and allows for the unexpected.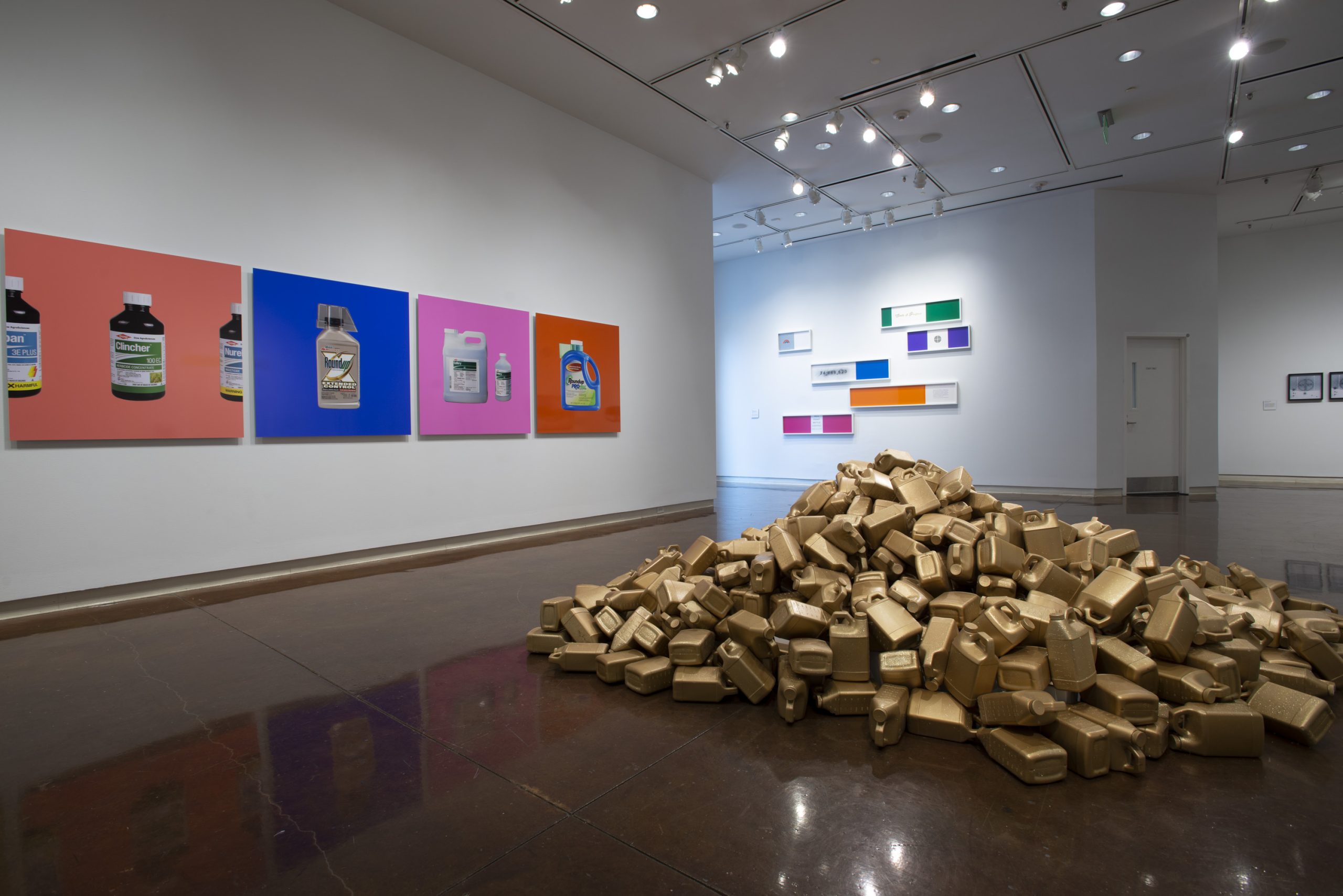 LC: How do you structure your week?
KS: Each week is different depending on the projects I have going on. Generally, the night before, I work out if it will be a studio day (creative) or an administration or writing day. I tend to get up early, as I have trouble sleeping, but morning time actually suits my inner time clock. I always start my day with a coffee (cortado) and some type of exercise. Run, walk, or swim. Quick shower and then down to the studio. Often, I'll pick up where I left off the day before, but if I'm starting a new project, I arrange a clean area in the studio where I can begin without distraction. This can be to physically start making work, or sometimes, if I'm in the research phase of a project, an uncluttered space to set up my computer, print out documents, organize folders etc.
LC: What is your current goal for your career/plans for the future?
KS: I'd like to pursue significant and substantial grants and international residencies that will enable me to continue expanding my research and develop more large-scale projects.
LC: What advice do you have to give to young artists?
KS: From a practical standpoint, if we're talking about setting up a studio practice, it's helpful to figure out what environment works best for you. Every working artist approaches their practice in an individual way—no two artists have the same demands, responsibilities, time constraints, financial apparatus, or aspirations. It's really about determining how you work best and most creatively. Are you a morning person? Do you like to block out an entire weekend or work every day in the studio? Do you work in the studio at night, to allow for a day job? Each studio practice is a very focused, individualized ecosystem, one that is tailored to the specific needs of the artist.
From a connection standpoint, I think it's important to start with artists and galleries within your community. Reach out to artists that have been making work for some time. Visit artist studios, go to exhibition openings and artist talks, and follow artists whose work you admire on social media. Building relationships with other artists has been so meaningful to me personally, and often leads to exciting collaborations or exhibition opportunities. I've found many artists are very generous with their time and are happy to share ideas and experiences.
LC: What are you most proud of?
KS: I'm proud of my ability to balance the management of my studio practice with my ongoing excitement to continually produce work.
---
Images are all installation pictures of Kirsten Stolle: Only You Can Prevent A Forest by Rick Rhodes Photography & Imaging.