Our fall intern Maddie chose to take a sort dive into the history of Bayer and it's merger with Monsanto. Using appropriation, wordplay, and humor, Kirsten Stolle co-opts advertising strategies used by agrichemical corporations to resurface and critique company history. Building upon her decade-long research into companies like Bayer/Monsanto and Dow Chemical, the work will forefront historical ties to chemical warfare and reveal persistent greenwashing. Stolle's work interrogates the global influence of chemical companies on our food supply and their consistent efforts to downplay effects of their toxic products on our health and environment.
---
According to their website, Bayer-Monsanto (merged into one company in 2016) started as "a friendship between two men, plenty of natural curiosity and two kitchen stoves". The international company is now one of the largest corporations in the world, with a focus on pharmaceuticals, consumer health, crop sciences and animal health. Despite Bayer-Monsanto's apparently charming origins and large success since, the company's history is marked by scandal. This includes ties to the Nazi Party; the selling of tainted HIV medication; the production of Agent Orange during the Vietnam War; and ongoing death and injury lawsuits for a range of their manufactured drugs.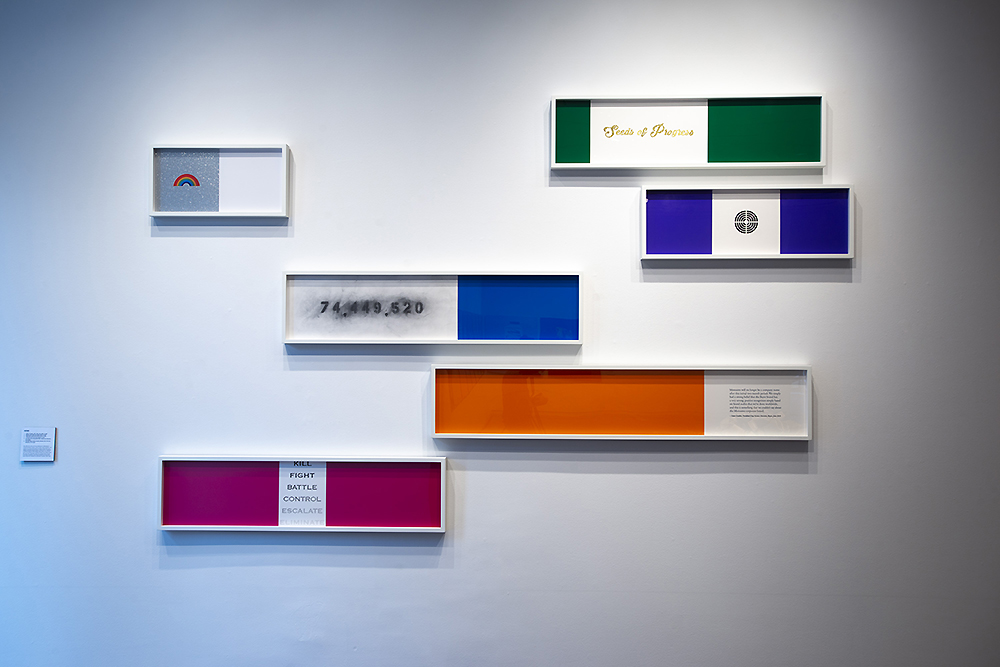 Kirsten Stolle's exhibition Only You Can Prevent A Forest explores the dark legacy of Bayer-Monsanto by juxtaposing the bright imagery and slogans of corporate propaganda with the reality and consequences of agrichemical manufacturing. The title of the exhibit reveals the larger themes of the work; the phrase pops from a dark wall in neon green lettering as you enter the gallery. Originally an environmental slogan on preventing forest fires from Smokey the Bear, well known even today, the phrase was co-opted and shortened to become the unofficial motto of the US military's chemical warfare program during the Vietnam War. This corrupted slogan referred to the use of Agent Orange and other "Rainbow Herbicides" in the U.S. Air Force's Operation Ranch Hand, which involved aerial spraying to defoliate forest and kill crops as a warfare tactic. Between 1965 and 1969, the former Monsanto company was one of nine wartime government contractors who produced Agent Orange for the US military.
A US class action lawsuit was filed in 1979 against these corporations, who attempted to pass culpability to the US government, while also denying the link between the chemicals and health problems existed at all. Yet, the companies chose to settle before the case was tried, agreeing to pay a fund for disabled Vietnam veterans and their families. Many affected felt this was a betrayal; because this settled the case out of court, no causal relationship was legally established between the herbicides and the health damages. Vietnam and many other victims are still attempting to bring charges against the companies.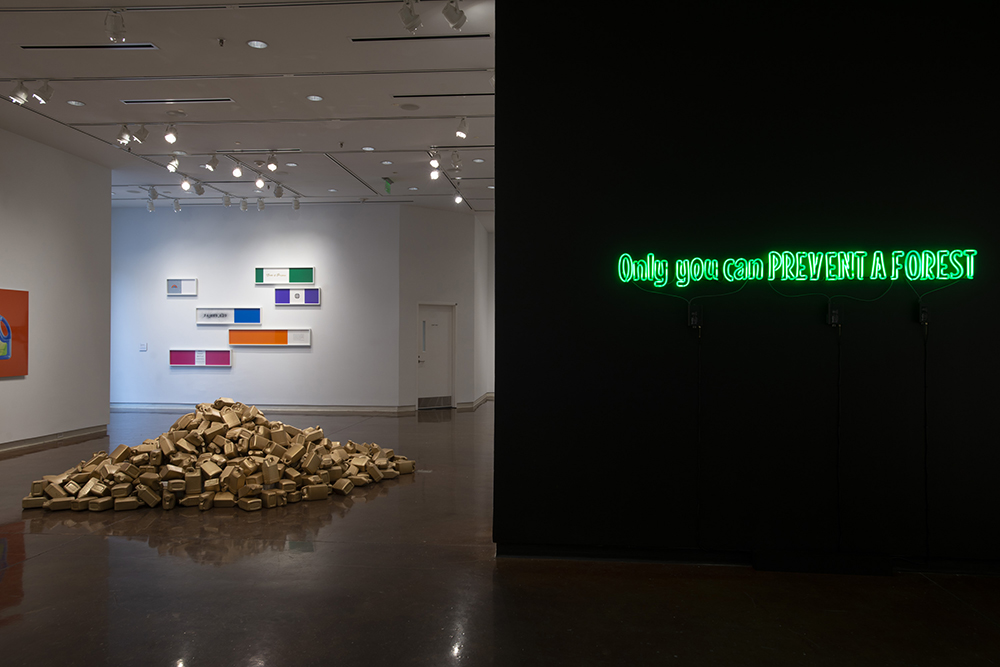 Stolle's use of the slogan Only You Can Prevent A Forest references not only the disturbing past of Bayer-Monsanto and their involvement in the Rainbow Herbicides health crisis, but represents the messages of the entire exhibition. Cognitive dissonance is created by combining harsh concepts of chemicals, business, and health hazards with bright colours, cheerful marketing images, and the playful activity of word search. The artwork asks the viewer to truly consider the inviting images and colours that seek to soothe the consumer's fears over health and environmental concerns. It asks us to look beneath the corporate greenwashing to acknowledge the deeper and disastrous implications for our bodies and our world when greed takes precedence over safety. Not only do the pieces bring light to these consequences, but they also expose the insidious and purposeful control that corporations like Bayer-Monsanto attempt to impose on the consumer through targeted marketing campaigns.
---
Sources:
"Agent Orange: Background on Monsanto's Involvement." Business & Human Rights Resource Centre, 7 Apr. 2017, https://www.business-humanrights.org/en/latest-news/agent-orange-background-on-monsantos-involvement/, Accessed 4 Oct. 2022.
Compton, Kristin. "Bayer – Drug Manufacturer's History, Problematic Drugs, & Lawsuits." Edited by Emily Miller, Drugwatch, 14 Sept. 2022, https://www.drugwatch.com/manufacturers/bayer/, Accessed 4 Oct. 2022.
Institute of Medicine (US) Committee to Review the Health Effects in Vietnam Veterans of Exposure to Herbicides. Veterans and Agent Orange: Health Effects of Herbicides Used in Vietnam.2nd ed., National Academy Press, 1994, National Library of Medicine, https://www.ncbi.nlm.nih.gov/books/NBK236351/, Accessed 4 Oct. 2022.
"A Journey through the History of Bayer." A Journey through the History of Bayer, Bayer Global, https://www.bayer.com/en/history/history, Accessed 4 Oct. 2022.
Images:
Kirsten Stolle, How to Control Weeds, 2020, ink on archival pigment print, 40 x 60 inches. Courtesy of the artist
Kirsten Stolle, HERBS, 2022, framed mixed media pieces, dimensions variable. Courtesy of the artist
Installation image of Kirsten Stolle: Only You Can Prevent A Forest with focus on the artwork Only You Can Prevent A Forest, neon wall sculpture, 7' x 10", 2022. Photograph by Rick Rhodes Photography & Imaging