Yaakov Israel, a native of Southwest Jerusalem, uses photography as a means to tell a story. His work investigates the Israeli identity as perceived through architecture, landscape, and the people living in his country, which he described in his Virtual Dis/placements Conversation as a "complicated, but magical place to live." In his early years, he was more interested in fiction and books. He attempted to write a novel in his early twenties but did not think himself equipped to be a writer. Instead of giving up on the idea of being a storyteller, Israel sought out a different medium; photography, a hobby from his youth.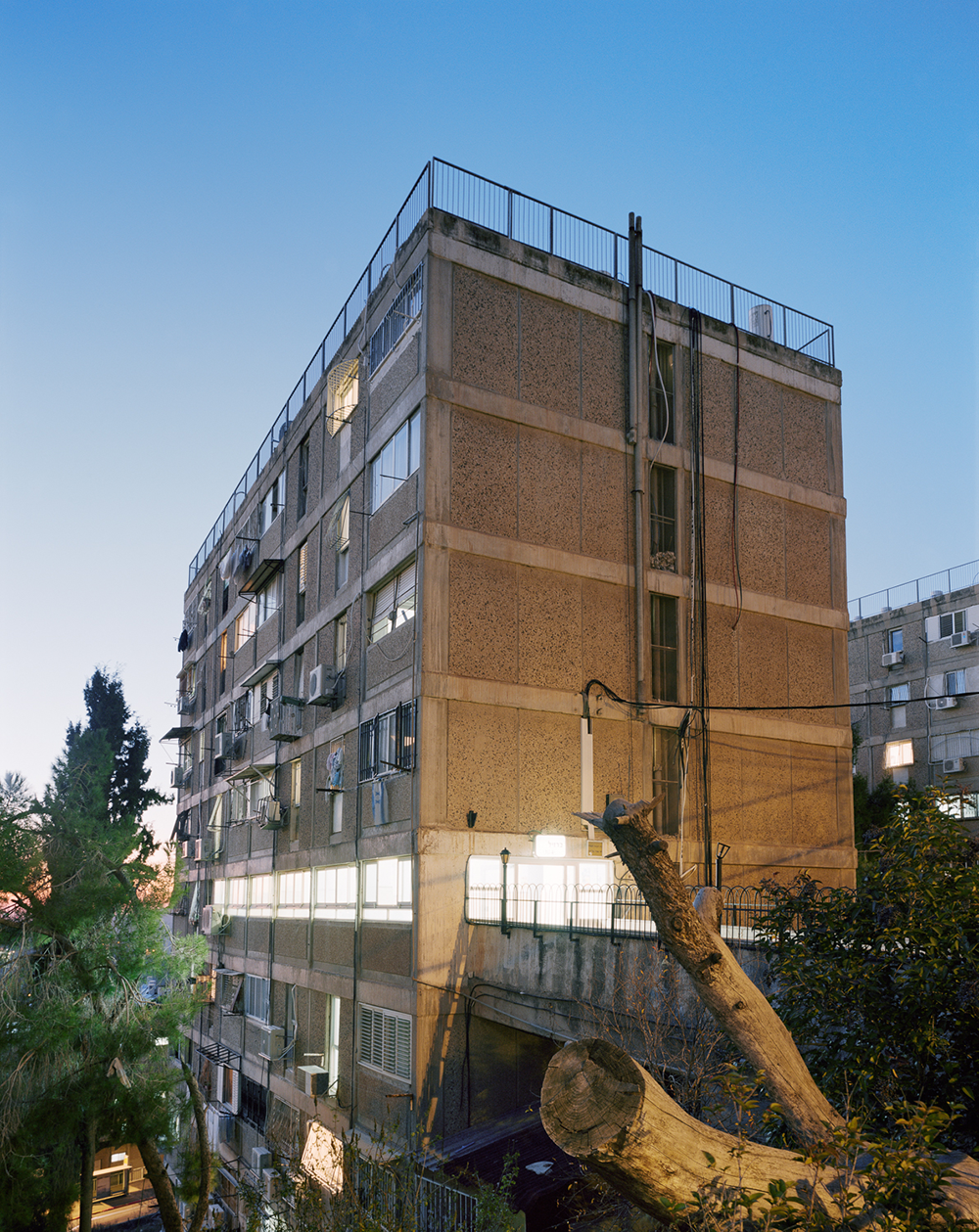 Yaakov Israel, 104 Brazil St., Jerusalem, 2020. From the South West Jerusalem series, Archival inkjet print on archival fine art paper, 33" x 41.6" Image courtesy of the artist
Today, Israel finds himself interested in the social and political issues that are connected to his life. With a notebook constantly at his side, he writes new ideas down and pursues the ones that continuously resurface, drawing inspiration from literature, film, and his surroundings. His first serious project was about the working-class neighborhoods of Southwest Jerusalem, the area that he grew up in, which combines interests he has in urban landscapes, and the idea that the residents of said neighborhoods maintain the city.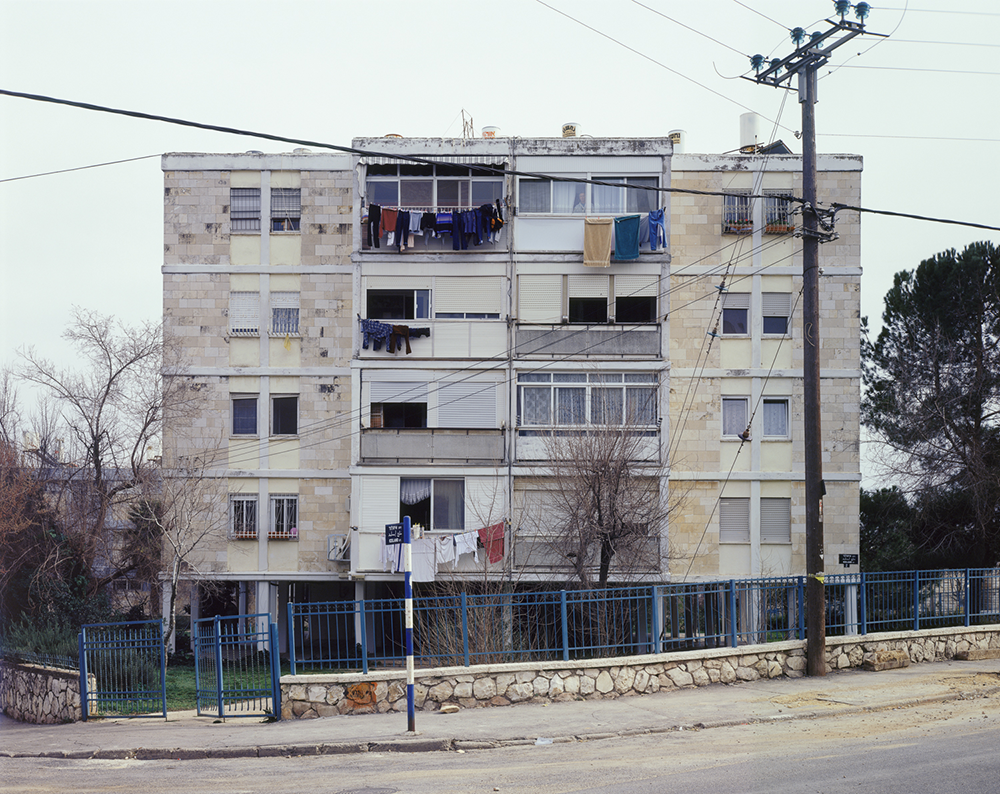 Yaakov Israel, 2 Iceland St., Jerusalem, 2002. From the South West Jerusalem series, Archival inkjet print on archival fine art paper, 33" x 41.6" Image courtesy of the artist
The Southwest Jerusalem Project started nineteen years ago and still continues to this day, as seen in the Displacements exhibition. This project is broken into three categories: photographs of buildings, portraits of residents, and topographic views. The apartment blocks photographed in this series were short-term housing solutions built in the 1950s-60s to accommodate immigrants arriving to the new state of Israel. With an influx of new people moving to Jerusalem each year, a lot of buildings have gone through transformations as gentrification occurs. Yaakov states that a lot of people that live in these neighborhoods are not really thinking about the places they are living, but instead are thinking more about their surroundings, and the ways in which places exist in the city of Jerusalem. He wants the project to be seen by the people he is photographing, since he has come to know some of them and wants to make his work more accessible. Most cannot afford to take off of work to travel to another neighborhood to see his exhibitions in person, so earlier this year Yaakov made a newspaper of images and text and distributed it throughout various parts of Jerusalem. By doing so, he hopes to connect the people to each other and form a melting pot of "one Israeli."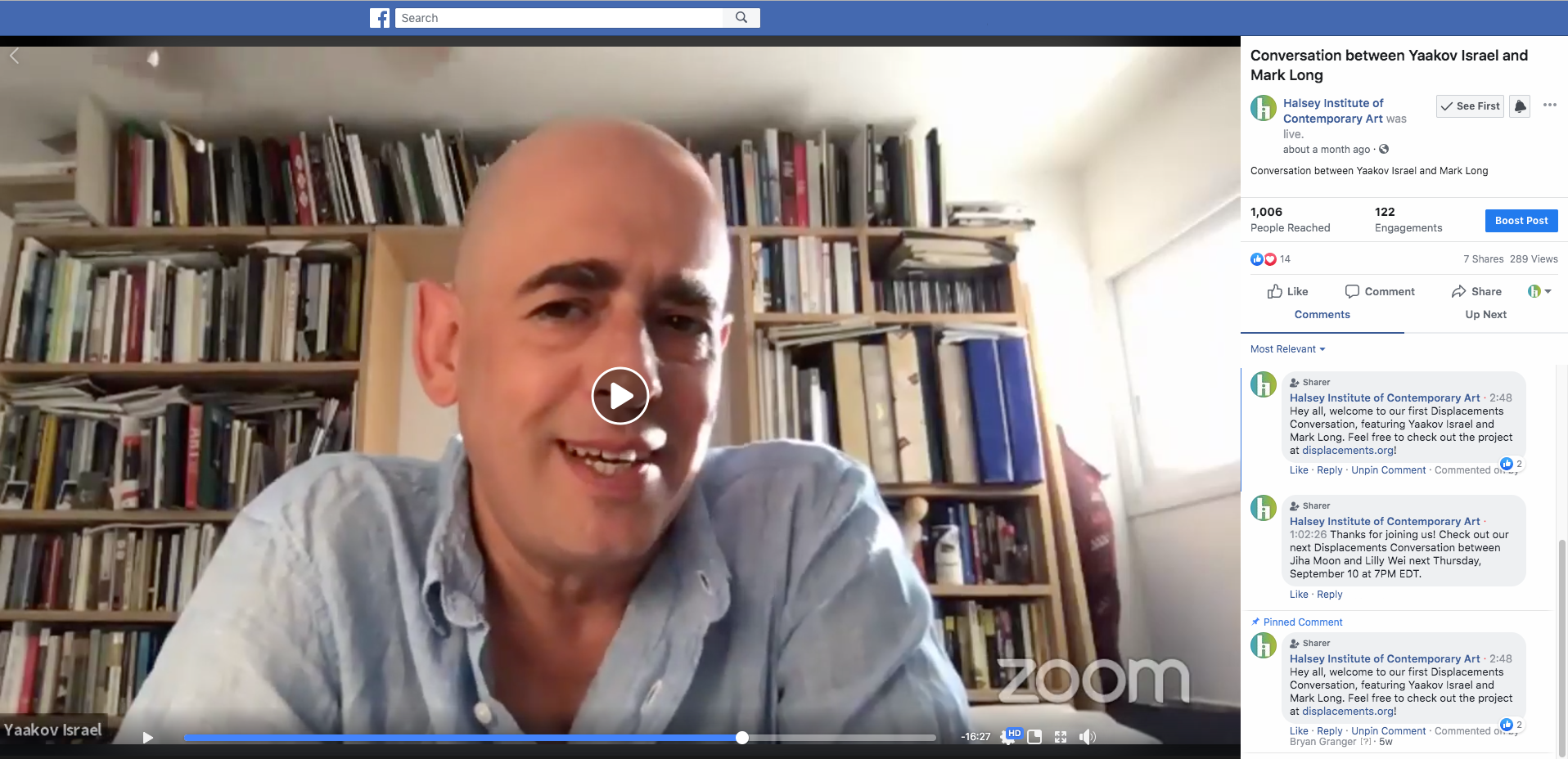 Screenshot of Yaakov Israel and Dr. Mark Long's Virtual Dis/placements Conversation on Facebook Live.
For his Virtual Dis/placements Conversation, that took place on September 2 on Facebook Live, Yaakov Israel was interviewed by Dr. Mark Long, a political geographer who also is part of the Political Science department at the College of Charleston and serves as the Halsey Institute's Curator-at-Large and Academic Liaison. Mark and Yaakov have worked together on several projects, including an essay Mark wrote for Yaakov's exhibition, The Quest for the Man on the White Donkey at the Halsey Institute in 2014 and in Yaakov's book Legitimacy of Landscape in 2015. Although there are strong differences between the two, Mark Long also grew up in a working-class neighborhood during a similar time period in Ireland and recognizes connections in Yaakov's work to his own experiences growing up. Dr. Long was also the co-editor of the newspaper that was distributed on the streets of Israel as part of the Southwest Jerusalem Project. Both share a deep interest in the personal and local stories of an area that need to be told, and the ongoing stories of urbanization worldwide.
By Sarah Berry, education coordinator
Image top:
Yaakov Israel, Teens, Colombia St., Jerusalem, 2009
From the South West Jerusalem series
Archival inkjet print on archival fine art paper, 33" x 41.6"
Image courtesy of the artist