We do not often see original forms of photography still being used by modern day artists, and I believe that is part of what makes the works by Dan Estabrook stand out so greatly. His art focuses primarily on the relationship between image and object, and by using photography methods such as tintypes and salt prints, there is also a focus on the relationship between past and present.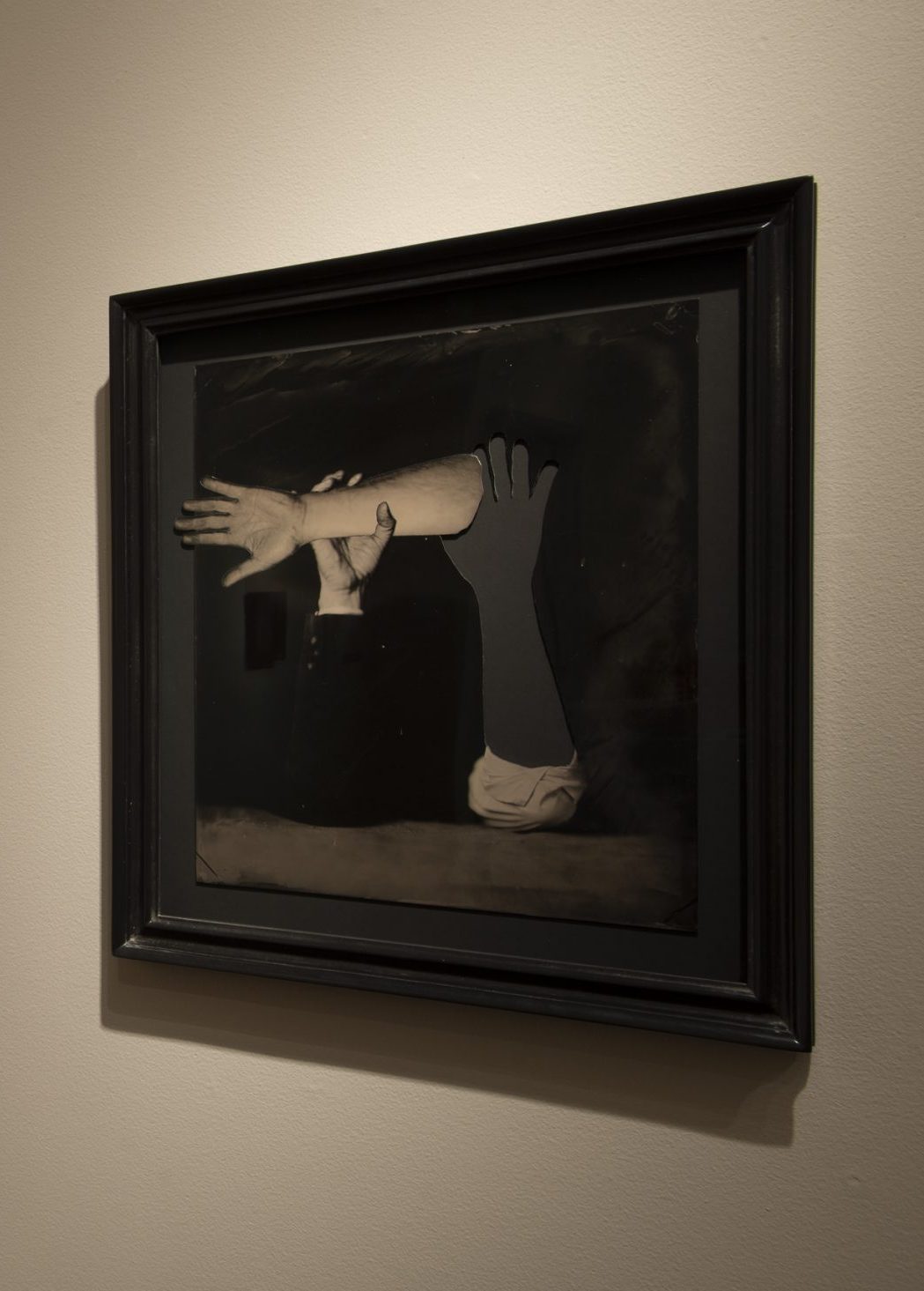 One piece that stands out to me is The Thief, which is a cut tintype that utilizes negative space as a focal point. Three hands intertwine and stand out against a plain background, although the third hand isn't a hand at all. It is the absence of space entirely, but the bold use of negative space and the manipulation of imagery through destruction creates an outline of a third hand, causing our minds to interpret it as an object capable of holding up another. We clearly can see the connection here between image and object, and we can also see the connection between past and present. This is not only through his choice of medium, but also through the objects and their layout. His contemporary take on an antiquated form of photography brings us to a deeper understanding of the history of this art form.
Tintypes were introduced in 1856, and their popularity reigned until about 1867. They stand out among other photography methods through their distinct characteristics, and they provide us with a sense of connection to the past. When we think of tintypes, we generally imagine portraits featuring top hats, long dresses, and stern faces. Contemporary art probably isn't the first thing that comes to mind. Seeing a contemporary take on this classic technique provides feelings of balance in terms of past and present, but it also gives one a stronger sense of curiosity about our connection to the past and the creators that came before us.
In what other ways can one connect to the past, while still incorporating modern day ideals and aesthetics? In what other ways can we appreciate these abandoned forms of creation, while still introducing a new, never explored take on them? These are just some of the questions Dan's work brings to the forefront of my mind. His work provides me with an appreciation for the past, present, and future of art, along with a deeper level of understanding for this creative method. It fills me with curiosity and a desire to create and build off of the artists who walked before me.
-by HollyAnna Vaughn, Halsey Institute intern