We asked our summer 2021 intern Isabelle to complete one of the activities in the Educational Resource packet's "Suggested Activities" for Dan Estabrook: Wunderkammer. She chose Portrait Activity:
– Gather random materials around the house that you would like to photograph.
– Arrange your materials in a way that looks like a human form, whether that be a face or body. Bottle caps can become eyes, rocks you have collected on hikes can become arms, and your bedside lip balm tube can become a mouth.
– Photograph your materials with a mobile phoneto look like a portrait. Does it look like you?
– Now edit your image. You can do this with the editing features on your phone, or if you have socialmedia photo editing apps, use those! If not, move the objects around and then take another photograph. You can even use the pen/marker feature of your phone to add further details.
– Post the image to your social media or use it as your new profile picture. You can also print a copy of your portrait!
---
I decided to embark on making my found object portrait in the gallery using stuff from the front desk. As I glanced around and tried to see eyes in post-it notes and mouths in highlighters, I saw a jumbled mess of cords lying on the ground. All of these cords invoked the image of tangled long hair, which much to my chagrin reminded me of my hair at times. This activity forced me to reconsider how I interpret and classify everyday objects. I had to open my eyes a little wider and allow them to stretch and recolor what I was seeing in order to find objects to form an imperfect portrait.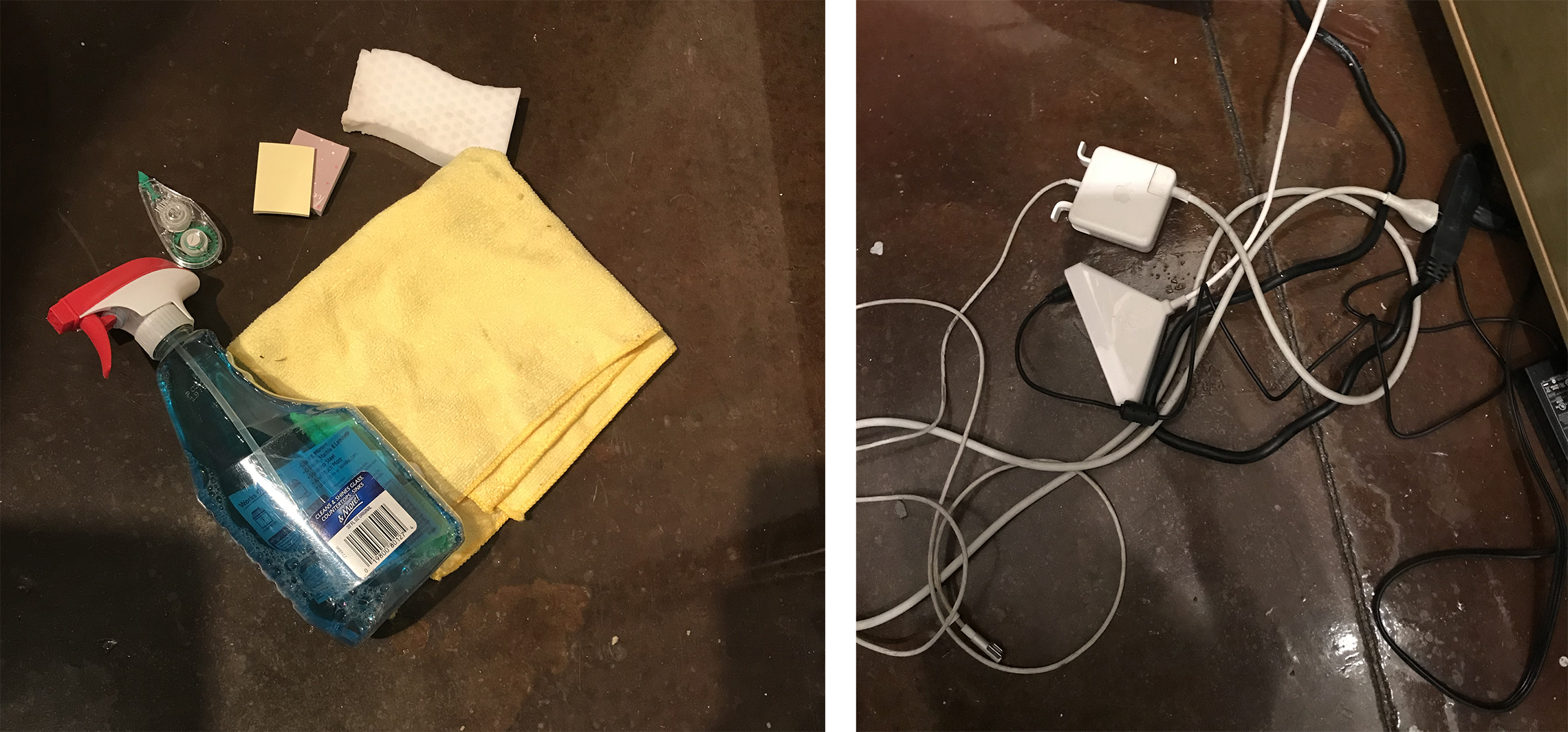 Ever since creating this portrait I can not stop myself from seeing faces in everyday objects. This small act of creative thinking has sparked me to open my eyes a little wider while dealing with monotonous objects. I hope that those who partake in this activity will find the same result and that that little spark of creativity can then push them to grow and foster many more creative ideas, thoughts, and projects. We all need a little creative reminder every now and then and this activity along with the other ones found in the workbook are the perfect creative jumpstart for young and old alike.