This post is the second in a five-part series by Dr. Mary Trent, College of Charleston instructor in Art and Architectural History and Southbound project contributor, that highlights the extensive K-12 outreach program correlating to the Southbound project, Capturing #MySouth.
---
How many middle and high school students have looked beneath the focusing cloth of an 8×10 large format camera? Before a couple of months ago, none of the students in art classes at Rollings Middle School of the Arts in Summerville and Goose Creek High School had. But, they were able to have that novel experience when photographer and College of Charleston professor John Hathaway visited for part of the Capturing #MySouth project organized by the Halsey Institute of Contemporary Art. Students were amazed at what they saw under the cloth: a large screen, full-color view of the moving world upside down and backwards, as Hathaway says "like you own private little cinema." Hathaway showed students how to focus the camera with the knob and gave each student the chance to go under the cloth and adjust the camera focus on a friend standing in front of the camera.
A fine art photographer who works in the documentary style, Hathaway visited the classes to talk with students about his work and how he got started as a photographer. His classroom visits precede the students' class trips to the Halsey and The City Gallery at Waterfront Park to see the current exhibition: Southbound: Photographs of and about the New South (on view until March 2nd). Supported by grants from the South Carolina Arts Commission and Arts, etc., the Capturing #MySouth project engages approximately 120 tri-county area middle and high school art students, ranging in age from 13-18 years old. Students are given a digital camera and asked to take photographs capturing their experience of the South and their own Southern stories, with the cameras being donated to the schools at the end of the project.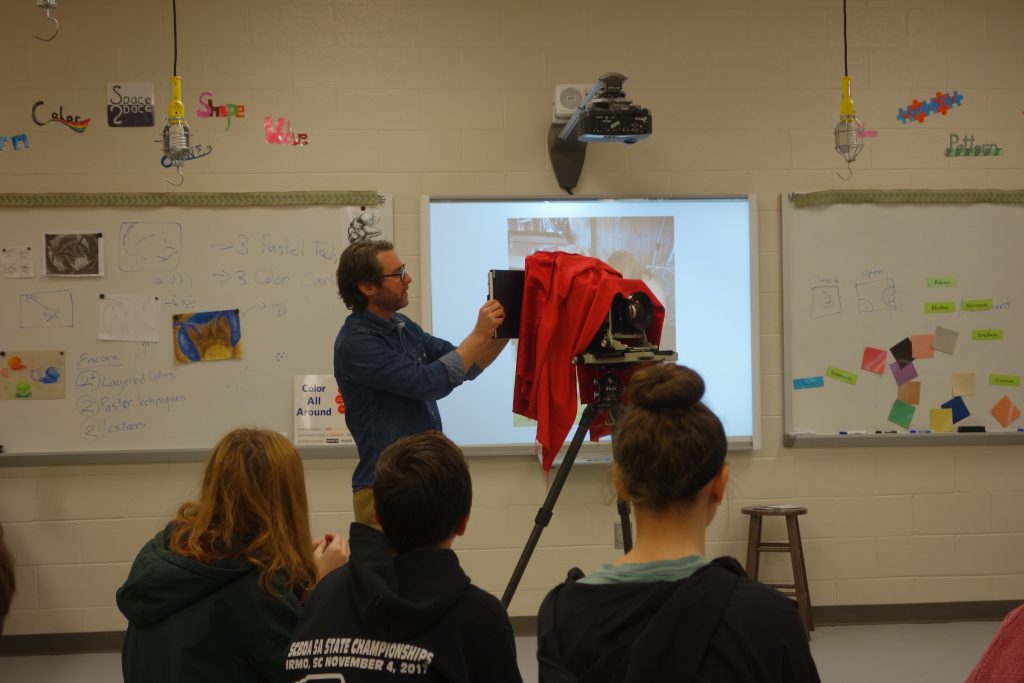 The project aims to capture a diverse view of what the South looks like to a younger generation. In addition to Rollings Middle and Goose Creek High, five other school are participating in the project. In total, the schools collectively represent a range of Lowcountry areas: from the barrier island of Johns Island, to the urban landscape of downtown Charleston to the more suburban Summerville and sections of North Charleston. Likewise, school populations reflect the racial diversity of the region, and include European American, African American, and Latin American students. By creating this composite view of what the South looks like, students will be able to peer into the lives of peers who live elsewhere in Charleston and see how their lives are similar but also different.
During his school visits, Hathaway received questions from students about how to get past the awkwardness of photographing strangers. Hathaway knows from his experience teaching college that many students can be terrified of photographing people. He suggested that the students give their subjects a good reason for why they want to photograph them, such as commenting on appreciating the way light was hitting their face or liking the gesture they had just made and then asking if they could take their portrait for their art class. Hathaway then noted that, even though most students think the hardest part is approaching subjects, it is actually what comes next: getting the photograph you wanted. He talked about the importance of being able to tell your subject what it was, specifically, that caught your eye and then asking them if they could do that again: make the same gesture or move back to the place they had been standing just moments before where the light hit them just right.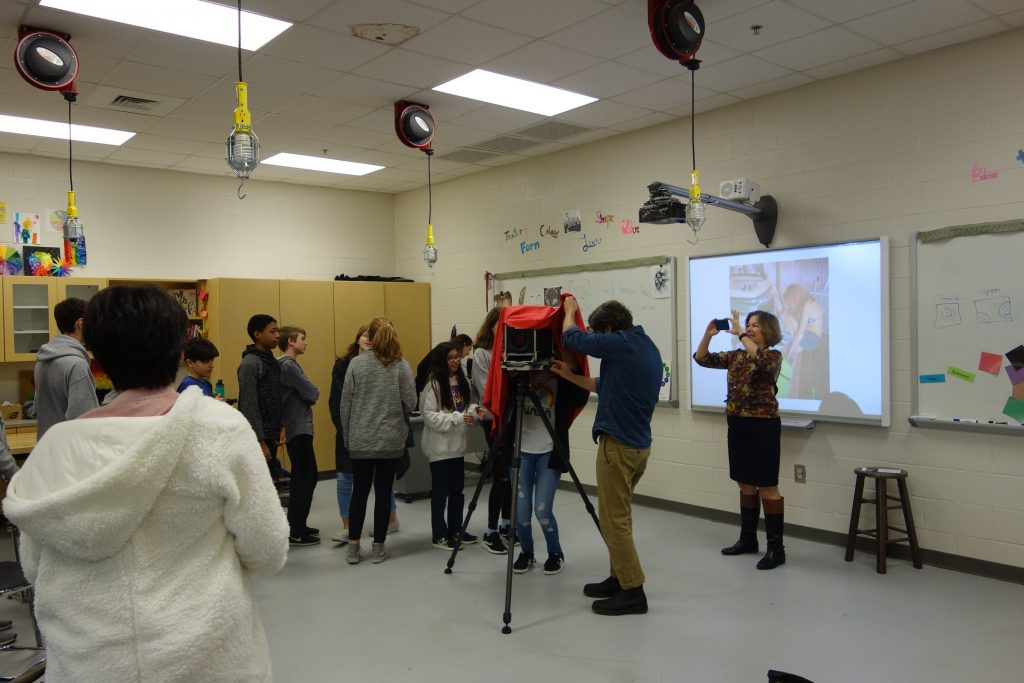 Hathaway had not had the chance to talk about photography with younger students before this and he was not sure what to expect. What he found was that younger students were just as engaged, connected, and interested in photography. As he recounted, "Photography has a unique ability to reach people because it's a visual medium." He is excited to see what they produce. After the students take their photographs, they will meet again with Hathaway, this time with him offering one-on-one critiques. They will also participate in workshops with Charleston-based memoirist Cinelle Barnes and complete writings related to their photographs. The Capturing #MySouth project will culminate in a final presentation of the works.