Are you running out of activities to do with your kids while staying at home? Or are you finding that you miss those family trips to the museum? Perhaps we can help! Here is a list of five stories about museums that you can read at home. All you need is internet access and a library card. If you don't yet have one, consider visiting Charleston County Public Library's website and signing up. Please note that the granting of new physical cards is currently suspended due to COVID-19. However, they are now offering virtual e-cards. If you are not a resident of Charleston County, contact your local library for more information.
Here are five books to supplement your summer visits the museum. All are available to borrow for free through the Hoopla app via Charleston County Public Library: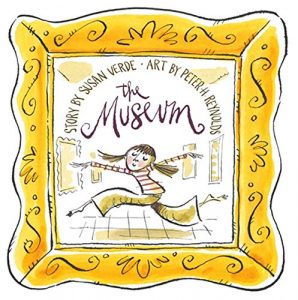 The Museum by Susan Verde
Recommended Age: 3+ years
This picture book on video is a fun read-along with young children because it communicates a fresh, playful, and childlike perspective on art. Viewers are invited to twirl alongside the main character as she explores the rooms of an art museum. Each piece of art that she comes across sparks a new emotion inside of her. This story will teach children that posing, dancing, laughing, and curious questions are all welcome at a museum.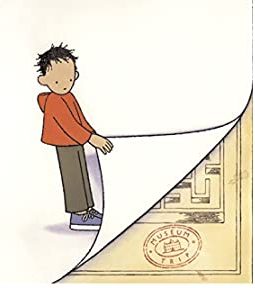 Museum Trip by Barbara Lehman
Recommended Age: 4-7 years
This is another story that follows the adventures of a child as he explores the museum. The best part is that this is a wordless story. Make this into a fun activity with kids or the whole family. Begin by asking your children to describe what they see in each picture. What details do they notice? What emotions do they sense? Who are the characters? Then, let them make their own dialogue to go along with the story. Assign family members to read the various roles. Convince everyone to use funny voices or props. The options are endless! If you do create a dialogue to go along with the story, tell us! We'd love to hear and see what everyone is up to at home.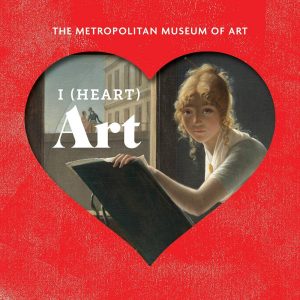 I (Heart) Art by The Metropolitan Museum of Art
Recommended Age: 6+ years
Made by the largest art museum in the United States, this book is great for adults and kids alike. Filled with more than 150 beloved works in the collection, it is divided into different themes for readers to explore including people, animals, transportation, and places. Text and the occasional poem accompanies each piece, providing readers with background knowledge of the work. Even if your favorite museum is the Halsey, you can discover and enjoy the best that the MET has to offer with this book. Among the artists included are Jennifer Bartlett, Romare Bearden, Rosa Bonheur, Canaletto, Mary Cassatt, Marc Chagall, Jean-Honoré Fragonard, Hokusai, Winslow Homer, Edmonia Lewis, Claude Monet, Georgia O'Keeffe, Alfred Stieglitz, and Andy Warhol.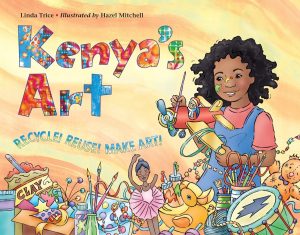 Kenya's Art by Linda Trice
Recommended Age: 7-10 years
Does your child need to write about what they did over their school break? Perhaps this book can give you some inspiration. Complemented by Hazel Mitchell's beautiful illustrations, author Linda Trice's story of how Kenya found something interesting to do over spring break is both entertaining and thoughtful. With the help of her father, Kenya visits a museum and suddenly gets inspired from an unlikely place: the recycling exhibit! Kenya and her father both decide to make art out of recycled items at home. This story teaches kids about the importance of the 3Rs: reuse, reduce, recycle. It's a perfect read whether you just want a fun book, a family read, or something that further explores environmentalism.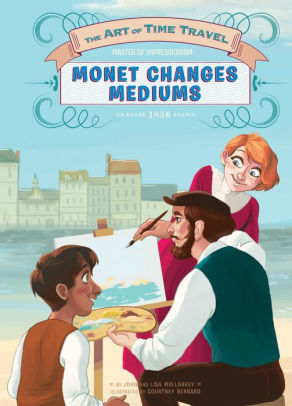 Monet Changes Mediums by Lisa and John Mullarkey
Recommended Age: 7-10 years
Perhaps a better choice for elementary school students, this book is Part 3 of the Art of Time Travel series. Follow main characters Becca and Logan as they travel back in time to 1856 in La Havre, France and meet Claude Monet. Monet has started his own successful business drawing caricatures in charcoal. Becca and Logan already know that Eugène Boudin will inspire Monet to paint in oils and become a famous artist of the Impressionist period. But Monet does not want to meet with Boudin. Can Becca and Logan convince Monet to change mediums? If not, then the world will never enjoy Monet's masterpieces!
We hope you enjoyed these reading recommendations. What are you currently reading at home? Do you have any favorites that you would like to recommend? Feel free to reach out to us at HalseyTours@cofc.edu if you would like to see more similar blog posts. Happy reading!
By Sarah Berry, education coordinator