PAST BLOG
CATEGORIES
RECENT BLOG POSTS
By now, you've visited the Rebound exhibition .. maybe even a few times. To ensure that these artists continue to blow your mind, we've pulled together images of the other types of artworks Brian Dettmer, Doug Beube, Guy Laramée, Francesca Pastine, and Long-Bin Chen create in addition to the poignant book works on view at the Halsey Institute until July 6th.
BRIAN DETTMER
Skull, 2005, Altered cassette tape cartridges
Ram Skull, 2007, Altered cassette tape cartridges, 9" x 17" x 13"
DOUG BEUBE
Smoking Gun, 1996, wall board, wood, matches, 40" x 25" x 2"
Desire 07, from the Desire series, 1970 -1984, photograph
GUY LARAMÉE
The Wreck of Hope
Painting from The Sacrifice series, c. 2010, Oil on canvas
FRANCESCA PASTINE
Mutual Fund Web #4, 2009, Cut newspaper, 22″ x 13.5″
Small Supermarket Cart #1, 2007, Watercolor on handmade paper, 9″ x 13″
LONG-BIN CHEN
Hanging Man, 2003, Altered books, wire, 220 x 35 x 25 cm
Book Face, c. 2010, Old furniture, hard cover books, 21″ x 42″ x 80″ 
A common thread that ties all the artists in Rebound is their structural alteration of the book form. The works all employ books as their medium, but subvert the classic format to call attention to the varying ways that the printed word is used today. If you want to join the Rebound artists in their play with the book's structure, one of the best ways to start is experimenting with the simple Pamphlet Stitch. You only need a few tools and can use any sort of paper you can get your hands on! (Thanks to Booklyn.org for the diagrams – be sure to visit their site for more great bookbinding tutorials and ways to bring books to the world. )
Tools:
Paper (three or more pieces of lightweight paper, such as computer paper, and one piece of heavier paper or board that is the same size)
Safety pin, map pin, or awl
Needle
Embroidery thread
 1. Fold each piece of paper and cover sheet in half.  Each of these is called a folio. Nest them inside of each other, heavy piece on the outside, to make a signature.
Rebound artist Long-Bin Chen created this beautiful zen garden, Set in Stone, in the Addlestone Library's Rotunda.
Let's take a step back and learn about the process from the beginning. We'll follow the creation, move and installation to the end result – an interactive, site-specific installation made from about 2,000 books donated by the Charleston community! Long-Bin used every minute of his three-week residency at the Halsey Institute to create Set in Stone. The Friends of the Library at the College of Charleston are sponsors of Long-Bin Chen's residency and installation.
Gathering books:
 After collecting books for a few weeks, they all needed to be sorted by size and have their dust jackets removed.
Long-Bin, his studio assistants Tommy Fox and Jordan Fowler, and Studio Art professor Michael Morrison during the creation of Set in Stone:
 After the books were sorted, they were nailed together and bamboo rods were inserted to keep the pieces together. Then the forms were shaped into large marble-looking sculptures.
Testing out their work:
Once Long-Bin, Tommy, Jordan and Michael felt they were finished with the individual sculptures, it was time to set them up in a large, open area to feel out the arrangement and spacing. 
Moving the sculptures from the studio to the Addlestone Library:
It took a team of guys from the College of Charleston's Physical Plant to help Long-Bin, Michael, Tommy and Jordan move the sculptures to the Addlestone Library. 2,000 books weighs a lot!
Installing the final pieces:
Finished installation:
After three weeks of work and lots of helping hands, Long-Bin's Set in Stone installation was complete! The installation will be on view until October 12, 2013.
Check out this informative and beautiful video produced by Dave Brown in the College of Charleston's Office of Media Relations and Video Services!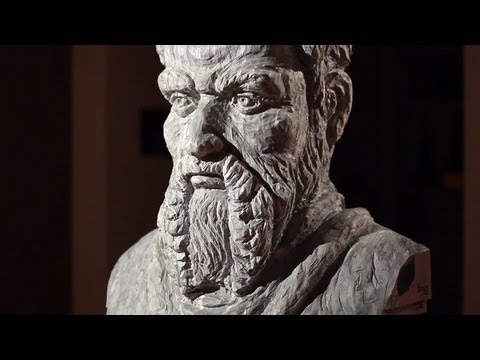 Some of our student artists are inspired by their surroundings, some by their childhood, others by the work of practicing artists they admire. The students that we will look at today chose to explore ideas and subjects that can be described as "otherworldly", "abstract" or "cosmic".
________________________
AIDAN COOKE
Hamilton and The Quickening
Frequently seen in cultures around the world, there are creatures, spirits, and angels called "psychopomps", which are responsible for escorting newly deceased souls to the afterlife. Horses, ravens, dogs, sparrows and owls are commonly considered psychopomps. For the monoprints entitled Hamilton and The Quickening, Aidan decided to expound on the idea of certain psychopomps, specifically the raven and the dog.
With Hamilton, the strangeness of the English bull terrier's face and body immediately invoke in her mind the otherworldliness that she associates with psychopomps. The odd planes of the dog's face give it a sort of mystery. She wanted his mischievous expression to contrast with the outlandishness of his face to mirror her own feelings about death. His expression is reassuring, but also unsettling as with The Quickening. Ravens have had a long history of association with death. Ravens are eerie birds and their calls are coarse and disquieting. she wanted to capture a raven in his call, but she also wanted him to appear transient. He is here, but he is also somewhere else, melting into some other place. 
ALIZEY KHAN
M104: Sombrero Galaxy
The properties of light and spatial depth are the focus of Alizey's astronomical work. She strives to visually depict natural processes beyond ordinary human experience to instill in the viewer a sense of curiosity and wonder regarding the universe around us.
NICHOLAS WHITMYER
An Over/Ingrown World
Nicholas says, "This series I've been developing for the past couple years serves as a reminder about the union between man, nature, and all the elements. The World is symbolic of life, growth, death, decomposition, rebirth and evolution; incorporating elements of childhood nostalgia, observations, fascinations, obsessions and the subtleties and wonders of being alive this moment. Delve into the World…" 
STUART GRANT
Brain Deadly
Stuart creates work that is inspired by his youth. He spent a great deal of time in Europe, where his parents exposed him to Byzantine and Baroque works, which highly influence his drawings today. He never thought much of what he saw as a child, but retrospectively, can see the subtle influence. 
His aim is to create an unusual closeness between the audience and his work. The amount of intimacy that a small canvas offers is essential to this goal, so he tends to work small and detail-oriented. Stuart feels that if he can lock eyes with his illustrations and feel slightly unsettled, it has the potential to keep him interested and motivated to create more pieces that offer a similar experience. The zombiesque styling with the Christian symbolism has strong ties to his youth. When he was abroad, most paintings that interested him were quite graphic or had a strong connection with Christ. 
TAYLOR EPPS
Ghost Ship Sunset
This piece is made up of a marbleized acrylic background with the ship applied in slightly translucent white oil paint. Taylor explored the marble acrylic technique in a previous piece and liked the idea of it representing both the sky and water at sunset. She chose to use the image of a ghostly fishing ship because she liked the idea of an eerie subject only visible in certain lighting. Taylor wants the viewer to wonder about the origins of the vessel and why it might deserve a spiritual entity. She is partial to bright, vivid colors as well as elaborate detail in her work. She forced herself to let go of the latter in this piece in an attempt to explore interpretive representations of objects and space that can come from a more abstract application of paint. 
TOMMY FOX
Meditation Piece
Tommy approaches the Buddha figure with both understanding and ignorance. He understands the inherent pleasantness of the form, even without much formal knowledge or religious context. The gathering of many advances the meditative direction and joyful nature of the individual form. The viewer is welcome to enter the plane of the figures, feeling the gravitational pull and sway of the mass. The unexpected use of suspension contradicts this, just as personal reflection and meditation seem to somehow transcend the mundane, if only for a moment. 
Today, we'd like to dedicate a post to the joy of discovering different vantage points. Some pieces make it almost imperative that the viewer experience multiple angles to fully experience the work. Some pieces, just based on their display methods require the view to crouch, walk around, or interact with them. Even though the show has been up for almost two weeks, we are still noticing  details and aspects of pieces that were unknown until we approached a piece from a different angle.
Here are a few interesting angles, perspectives and close-ups of pieces to check out for yourself in the exhibition!
___________________________________________________________
ALYSON BURNS – Wood Works
CHLOE GILSTRAP – Mind in a Steel Trap
JOSHUA BRELAND – Evolution of Decay
BRANCH TANKSLEY – Surf Wax
SARAH DAVIS – Wood
LUCI BARRIO – Feb. 14, 1999 and Feb. 25, 2000
The annual juried student exhibition Young Contemporaries is always a great show to spend time appreciating pieces of art for what they are. Here is an activity that was designed for sharing the exhibition with a tour group.
——————–
Grace Musser's drawing Jungle Rescue is a perfect fit an activity we just designed to lead viewers on a concentrated exploration of figurative artwork. There are two parts to the activity. For the first part, look closely at the drawing for 15 seconds if you are in the gallery, spin around so that your back is to the piece and recall as many details as you can about the work. If you're seeing the drawing on your computer only, just look away from the screen.
Many common answers will be: woman, lantern, trees, people, shadows, vines, grass. 
When the viewer turns back to face the piece, we'll continue with a series of questions that require not only close examination of the narrative, but also the injection of a personal interpretations and conjecture. Here are the questions we came up with:
1. Describe the characters.
2. Describe the woman's clothing.
3. Who is she?
4. What are the other people doing? How many people do you think there are in the group?
5. Where are they? How do you know? Why are they there?
6. Do you see any animals? Are there normally animals in this setting? Where do you think they are?
7. Describe the plants and trees.
8. What year do you think it is?
9. Describe the weather. Why do you think that is the weather?
10. What is in the background?
11. Is the artist trying to tell us something about this area? If so, what?
12. How does this scene compare with forests/jungles that you have personally experienced?
13. If this was not a black and white pencil drawing, what colors do you think the artists would need to use? Where? Why?
——————–
Even though there are no "right answers" in interpreting the meaning or message for a piece of art, we'd like to share Grace Musser's artist statement.
My work explores the history, processes, and concepts related to the dioramas in the Akeley Hall of African Mammals in the American Museum of Natural History in New York City. Specifically, much of my work incorporates stories and paraphernalia from the lives of Carl Ethan Akeley and Delia J. Akeley, the original preparators and explorers who created the dioramas. I became incredibly interested in the Akeley's lives over the past two years and have collected a trove of photos and photographic plates, copies of journals, published books, personal notes, letters, personal effects, and have spoken to several remaining family members and museum staff who knew of them through older generations of staff. Both were passionate, courageous, sincere, and multi-faceted American explorers and original preparators who risked their lives to travel to Africa during the early 20th century in order to gather animal specimens, foliage, and field studies. The dioramas themselves are childhood images for me as I was born in New York City and practically grew up in the Museum, going into work with my mother and father. They were employed as a researcher and curator (respectively) in the Mammalogy Department. My paintings consider both the dioramas and my experience as an individual in contemporary American society and culture. The diorama itself has always fascinated me as it is paradoxically a completely artificial, idealized world meant to represent reality and is extraordinarily intricate and time consuming in its creation process. It is especially interesting to me that the mounted skins must be poisoned in order to preserve their ideal, beautiful state. The dioramas and my paintings force the viewer to ask what is truly real — to what extent is our reality created by ourselves or the constructs imposed by others? Are our ideals even attainable or worth striving towards, or do we corrode ourselves in the name of upholding them? Additionally, I am particularly interested in this idea of reality and ideals as applied to nostalgia for the promise of the "American dream" that has been undermined by doubt regarding the present and future. My paintings present a kind of sepulcher for this nostalgia to the viewer through using an early 20th century American aesthetic combined with my own notes and constructs that point out the delusion and fallacy of such ideals. 
Jungle Rescue
"Jungle Rescue" is a graphite and charcoal drawing that depicts Delia Akeley's journey through the Congo jungle at 1:00 AM to rescue her husband Carl Akeley. Carl had initially ventured further into the jungle in order to chase the "perfect" elephant bull for his taxidermy group at the American Museum of Natural History (c. 1902). He had been mauled by an elephant and thought dead by his porters, who sent a message to Delia.  She then rallied her frightened and superstitious native African porters (they believed that walking through the forest at night would awaken evil spirits) to walk for miles in the cold, wet, pitch black forest. One of them tried to strangle Delia that night in an attempt to disband the expedition but failed. The morning was long and frightening as vengeful elephants threatened to attack the party throughout their journey and they only had one lantern to light their path, but eventually Delia and her porters found Carl and were able to save his life by providing the necessary medical care.
While this drawing depicts an actual event, it also focuses on depicting the more general human condition that is evident in both Delia's journey and our own experiences in the contemporary world.
Frenchman Louis Augistin Le Prince is known as the Father of Cinematography even though beloved American inventor Thomas Edison has been given credit for patenting the single lens camera in 1888. Of the two patents related to motion pictures applied for in 1886 by Louis Augustin Le Prince, this was the only one to be approved. He called it machine the "METHOD OF AND APPARATUS FOR PRODUCING ANIMATED PICTURES OF NATURAL SCENERY AND LIFE." The single-lens camera came into patent conflict and was not awarded, though a similar patent was granted to Edison several years later.
These are the drawings Le Prince submitted to the US Patent Office in New York City on November 2, 1886. It was approved on January 10, 1888. The drawings were accompanied by four pages of text describing every minute detail about the inner workings of the cine camera. 
Le Prince mysteriously disappeared off a Dijon bound train just days before his planned film exhibition at Jumel Mansion, in New York City. He was never seen again. Theories abound as to the cause of his disappearance: suicide because of bankruptcy, fratricide, a family ordered disappearance motivated by his homosexuality, and even murder by Edison henchmen (as some family members believed). 
What is certain is that Le Prince's camera filmed the first motion picture ever made, whether one accepts the more conventional attribution of Roundhay Garden Scene, 1888, or Secret Ritual, 1886, now in the collection of the F. Scott Hess Family Foundation. However, Le Prince was not the cameraman behind Secret Ritual, it was a young man named Eddy Westcott.
The exact connection between F. Scott Hess's ancestor Dominique Armand-cugnard's and Louis Augustin Le Prince isn't known. But, Eddy Westcott (1845–19??), Armand's brother-in-law, had befriended the french inventor as early as 1881, probably making the acquaintance through Dominique Armand. Westcott, a painter, frequented the studios of the panorama painters that Le Prince managed, and insinuated himself into Le Prince's experiments with moving pictures. By November of 1886, Le Prince had applied for patents in New York for his cine-camera, and had developed working models. Westcott "borrowed" the camera while Le Prince was overseas applying for english and french patents, and took it to his home in Brooklyn by horse cart. There, he made a surreptitious film of twenty-one-year-old Emily Bacon partially nude, combing her hair. Westcott eventually married Emily, who later insisted the film be destroyed. He claimed compliance with her wishes, but instead left the film plastered into a wall at the Armand family home on 149th Street in New York City. Sealed in a can marked "EW-film 1886, Secret Ritual," it was among the artifacts of Louis J. Armand gifted to the F. Scott hess family foundation by Eugene Nolan, Jr., in 2006. It is believed to be the earliest surviving motion picture ever made. 
click here to watch SECRET RITUAL, 1886:  Secret Ritual
click here to watch ROUNDHAY GARDEN SCENE, 1888:  Roundhay Garden Scene 
Happy Spoleto everyone!
We'd just like to share some awesome projects that have been inspired from themes, field trips and content in some of the Halsey's exhibitions. Our imaginations can take us to wonderful places – enjoy!
Here's a wikipedia style page for the work of Aggie Zed. She exhibited at the Halsey January 21 – March 10, 2012.
http://zedpedia.wikispaces.com/
This is a great Kcymarxthaere-stlye project inspired by Eames Demetrios's fictional world. He was one of the artists in our Spoleto time show in 2011.
Aldwyth was our Grand Opening celebration artist in 2009. Check out ALDwiki!
http://aldwythexhibition.wikispaces.com/

HUGE thank you to Junius Wright at Academic Magnet High School for creating the framework for his students to explore Halsey Institute exhibitions deeper! It's really wonderful and inspiration to see what these students have created from the artwork they encountered here. We look forward to collaborating with Junius and other educators in the future!
We're sad to see all the vibrant, intelligent work of Young Contemporaries 2012 go, but this gives way to our 2012 Spoleto Festival USA exhibition.
Our next exhibition is Return to the Sea: Saltworks by Motoi Yamamoto. Here are some important dates to remember for this show:
May 17 – 24: Motoi is creating his installation –  we are open to the public – come by and visit!
May 24, 5-7pm: opening reception for Return to the Sea
Saturday, May 26, 5:00pm:
 Interview with CBS Sunday Morning's Martha Teichener for Spoleto Festival's Conversations With… series
Simons Center Recital Hall, 54 St. Philip Street
May 25 – July 7: exhibition dates, we are open from 11am to 4pm Monday through Saturday with extended hours until 7pm on Thursdays.
Saturday, July 7, 4:00pm: Public dismantling of the installation. One and all are invited to join us for this integral part of Motoi's work. We'll gather salt from the installation, essentially destroying it, and go to the Aquarium Wharf as a group to return the salt to the sea.
We've produced a 170-page catalogue chronicling the past 12 years of Motoi's saltworks and Emmy award-winning filmmaker, John Reynolds has produced a mini-doc about Motoi's process and the connection between Japanese culture and salt.
FREE guided tours of the exhibition are available by contacting
Lizz Biswell: BiswellL@cofc.edu or 953-4422
ABOUT THE EXHIBITION
The centerpiece of the exhibition will be a site-specific installation created entirely out of salt by the artist during his ten day residency at the Halsey Institute. Curated by Mark Sloan, director and senior curator of the Halsey Institute, the exhibition will also feature a series of recent drawings, photography, sketchbooks, a video about the artist, and a catalogue.
Motoi Yamamoto is known for working with salt, often in the form of temporary, intricate, large-scale installations. Salt, a traditional symbol for purification and mourning in Japanese culture is used in funeral rituals and by sumo wrestlers before matches. It is frequently placed in small piles at the entrance to restaurants and other businesses to ward off evil spirits and to attract benevolent ones. Motoi forged a connection to the element while mourning the death of his sister, at the age of twenty-four, from brain cancer and began to create art out of salt in an effort to preserve his memories of her. His art radiates an intense beauty and tranquility, but also conveys something ineffable, painful, and endless.
Motoi views his installations as exercises that are at once futile, yet necessary to his healing. An important aspect of the installation is the dismantling of his work at the end of the show and delivering the salt back to water, usually in collaboration with the public; hence, the title Return to the Sea. During gallery hours, 11am to 4pm, on the last day of the exhibition, Saturday, July 7, the public can visit the installation and gather a small amount of the salt. Motoi recognizes that salt is a vital part of many living things and that this mineral could conceivably enter and leave multiple organisms throughout the planet over the span of time. According to curator Sloan, "each grain of salt contains its own history and trajectory. Something so seemingly common becomes a metaphor for the evanescence and transience of human life".
ABOUT MOTOI
Motoi Yamamoto is an internationally renowned artist who calls his native Japan home. He was born in Onomichi, Hiroshima in 1966 and received his BA from Kanazawa College of Art in 1995. He has exhibited his award-winning creations around the globe in such cities as Athens, Cologne, Jerusalem, Mexico City, Seoul, Tokyo, and Toulouse. He was awarded the Philip Morris Art Award in 2002 as well as the Pollock-Krasner Foundation Grant in 2003. Although he participated in a group exhibition that same year at New York's P.S. 1, his work has yet to be widely seen in the United States.
Motoi says, "Drawing a labyrinth with salt is like following a trace of my memory. Memories seem to change and vanish as time goes by; however, what I seek is to capture a frozen moment that cannot be attained through pictures or writings. What I look for at the end of the act of drawing could be a feeling of touching a precious memory."
Motoi Yamamoto has had very little exposure in the United States with the exception of his participation in the Halsey Institute's group exhibition Force of Nature in 2006 and a group show at P.S. 1 in New York City in 2003. For Return to the Sea, Yamamoto will travel to each venue on the exhibition tour to create a site-specific salt installation in tandem with the drawings, photography, sketchbooks, video, and catalogue. The Halsey Institute's goal is to introduce the work of this artist to a much broader audience, create a lasting document in the expansive catalogue, and provide an indelible vision of the artist's unique process through the video.
THE PLATFORMS
Motoi and the Halsey are collaborating with the Clemson Architecture Center in Charleston's (CAC.C) Studio V Design and Build class to create two viewing platforms for the installation. This will be the fifth collaboration between the Halsey Institute and CAC.C's Studio V class. The students, led by Ray Huff and David Pastre, will design and build a large platform in the Halsey's main gallery to provide visitors with multiple vantage points of the large saltwork. The students will also build an outdoor viewing platform for the gallery window fronting Calhoun Street, providing curious passers-by with a glimpse of the installation 24 hours per day.  These platforms will be in use during the run of the exhibition and also for Yamamoto's residency, May 17- 24.
Studio V will be keeping a blog of their process and the public can follow their progress by visiting their blog:  www.CACCSTUDIOV.com
EXTRAS
CBS News journalist Martha Teichner will interview Motoi as a part of Spoleto Festival USA's Conversations With series.  This free event will take place in the in the Recital Hall of the Simons Center for the Arts, 54 St. Philip Street, at 5:00pm on Saturday, May 26th.  There will also be free audio tours, free guided exhibition tours and the opportunity for the public to participate in the ceremonial dismantling of the saltwork at 4pm on the final day of the exhibition, Saturday, July 7. The Halsey Institute will also produce a free gallery guide that outlines the basic concepts behind Yamamoto's unique work along with a brief curatorial statement by Sloan and a biography of the artist.
The catalogue includes essays by Sloan and Mark Kurlansky, author of the New York Times best seller, Salt: A World History. The video will include interviews with Yamamoto at his studio in Kanazawa, Japan, insight into his creative process, still images and time-lapse videos of many of his previous installations, and an overview of the fascinating history of salt in Japanese culture.
This project has received support from the Asian Cultural Council, the E. Rhodes and Leona B. Carpenter Foundation, and the National Endowment for the Arts.
This will be a very exciting and interactive exhibition – I hope you can join us for the events and excitement!
One of the striking subject matter choices in the exhibition has been, for me, the self-portraits. Self-portraits are engaging at first glance because, many times, the artist is breaking the fourth wall and looking out to the canvas at the viewer. We have a number of these expressive and engaging self-portraits. Some self-portraits are simple, straight-forward representations, some are an idealizations and some are probing the inner psyche of the artist.
The works are, from left to right: (top) Christina Rodino, Kevin McLean, Kyle Branch and (bottom) Megan Leger, SaBrina Jeffcoat and Sam Erler.
We can read the mood or inner thoughts of the artist through the visual language communicated in the lighting, the brush strokes and, especially, the facial expressions of the artist. Sometimes, objects are incorporated to assist in conveying a sentiment.
The first artist, Christina Rodino, piece is eye-catching as she has placed herself in a grand, regal gown, surrounded by adoring wildlife, in the kind of background one would find in an Flemish portrait. Her expression is stoic, seemingly unfazed by the fact that she is holding a fawn and being crowned by blue birds. The color palette provides a lush feel. In her artist statement, Christina notes that while presenting herself as a princess, she feels far from it. If one knows her, you would be able to tell that this self-portrait is meant as a joke – she is lightheartedly poking fun at herself. Christinady says, "I try to laugh at my work, and in turn, make people smile."
The next artist, Kevin McLean, has a decidedly more serious take. This is a very dynamic self-portrait, there is a very active energy conveyed through the positioning of his body, the facial expression and the brushstrokes. Kevin chose to crop the image at waist height while still occupying most of the canvas with the subject. The canvas can barely contain him. He is in a lively, forwardly positioned stance as if the viewer has caught him mid-stride on a fast paced walk.
His hands are holding his backpack straps in a very confident manner, reminiscent of one stretching out suspenders while bragging. When viewed a bit closer, we can see a slight smirk on Kevin's face as he makes unfaltering eye contact with the viewer. Both the stance and expression exude self-assurance – he's got somewhere to be and he knows exactly what to do when he gets there. There is a highly energized paint application at play here as well. You can see in this detail that Kevin used a palette knife to apply thick, densely placed pigment to create a highly textured and almost quivering form.
Kyle Branch's self-portrait is a wonderful demonstration of skill and technique, incidentally this piece was awarded the President's Choice prize for Painting. The shadowing and highlighting of the face and neck do a wonderful job of conveying a sense of shape and three dimensions. Interestingly enough, in his artist statement, Kyle says, "Whether it was due to a lack of models, time crunch before a due date, or just because I figured I knew my face best, I've painted myself enough to have far exceeded a level of satisfaction." Albrecht Dürer may be best known for his etchings and engravings, but he also has a large body of self-portraits. He made many self-portraits over his career, seemingly fascinated by his most easily accessible model, himself.
Artist Megan Leger chose to incorporate aspects of her personality and personal tastes to convey a more personal expression for her self-portrait. In this instance, she is using the exercise as more of an expression versus an exploration. The playful nature represented in the image is confirmed in her statement. Megan says, "We were asked to create a self-portrait by using our features and playing with them. I thought it would be funny to mainly make my nose enlarged. Once I began shading the background, a giant baby head seemed to appear from the shadows. With the addition of the top hat, my favourite book and movie came to life. My portrait brings out the inspiration of Alice in Wonderland."
SaBrina Jeffcoat melded old photographs with her memories into an idealized past. Here, to create added interest, she's added in a bright, eye-catching hue and attached three dimensional objects to the canvas. She blends past and present, 2-D and 3-D materials and representational and fantastical elements into one piece. In her statement, SaBrina says, "I combined two photos to create the piece. The little girl is me at around the age of three. The original picture shows me sitting on a couch that was in my parent's first apartment. I chose this picture of myself because of the playful and mischievous expression on my face. Also, the pose that I am in reminded me of one that might be seen in a Renaissance period piece. Saying this, I thought a regal throne would be fitting to use. I really enjoyed trying to replicate the details of the throne and am excited about the end result!"
Our last artist, Sam Erler, conveys through his artist statement that the work was a technical exercise. I was immediately drawn to disceting his facial expression. I saw a poised, assured pose that might normally be associated with that cool guy in your class that knows he cool. Contrary to his feelings of awkwardly posing, I sense an easy confidence.  He says, "The assignment was to produce a photorealistic self-portrait based on a picture taken by our professor's camera on a timer and tripod. Personally, I'm much more keen on painting from observation. Some of the students posed for their pictures, but I just sort of awkwardly stood there while the camera flashed ten times. Most of the image is a lot flatter than the photo, I made some changes or ignored the details, but I would say I did learn the value of this technique. I can see why so many artists paint from photos."
While his color choices for the skin tone are interesting and descriptive, it is very hard to disconnect from his eyes. They are highlighted so perfectly that they seem to connect with the viewer and beg to be read. Through the visual noise of the background and skin tone, they are a magnetic focal point. Although the skin tone seem slightly alien, the eyes reflect the humanness of the subject – you feel that he is real. The image vibrates with energy from short brushstrokes like Kevin McLean's, but there is a stillness that happens in the eyes. My tour guides and I must have talked about this self-portrait for 10 minutes.
Although all of these works share a similar subject matter, the artist, they have very different treatments. Each one has a way of drawing the viewer in for a closer look .. or a second look. They all bring up the same question though, when is a self-portrait no longer a simple technical exercise in factual representation and more of a reflection of the society in which the artist exists? Cyndi Sherman used herself as a model for almost every image she made, but were they self-portraits merely because she herself was in them?
Some of the student works in Young Contemporaries effectively create counterintuitive reactions that are founded in our own familiarities. The artworks exude material irony – challenging our understanding of the world. The subject matter of the pieces have been represented by media with which they aren't normally associated. 
This calls to mind a famous predecessor in contemporary art, Méret Oppenheim's Object. A teacup, saucer and spoon that would normally be used for an afternoon break were completely lined with fur, creating an instant mental recoil based on the perceived texture the fur will have as we lift the cup to our lips to sip. Alan Foljambe said, "The familiarity of the teacup form is crucial to this process, as it brings the fur into a domestic mental sphere where its incongruity is highlighted. Had both the form and the material been exotic, the object would have been merely unfamiliar rather than 'uncanny', a word which Freud used to indicate 'the estrangement of the familiar.' In order to create the uncanny and draw down the marvelous, it is necessary to wed the bizarre and exotic to the most mundane and everyday objects. This is how the marvelous is granted access to the ordinary: the mind's mundane morning is shattered when the teacup grows fur." *
We recognize the familiar objects as being a bed, a lunch, a paintbrush and a child's tea set, but there is something out of the ordinary about their presentation that requires a second look. We know how it feels to sip from a tea cup, we know how soft beds are, we know that bagged lunches mean a welcome pause in the school day, we know that paintbrushes are lightweight with soft bristles to bend and spread paint on a surface and we know that a child's tea set might mean uncomfortably bent knees, but the heartwarming experience is worth it.
These objects can challenge our preconceived notions of the world and even our own memories.
Steel Slumber by Kari McCormack is a bed that by no means looks inviting to sit on. The pillow and comforter are made of hard, shiny plates of steel sewn together by thick twine. The twine is snarly and seemingly unkempt – twisting away from the bed like dried vines. Even the mesh screen that binds the comforter gives the viewer and uncomfortable, visceral reaction. Imagine trying to fall asleep while being poked, scratched and cold. The silver steel plates might resemble a quilt, but we know without even running our fingers over the surface that no squares of fabric were harmed in its creation.
  Bag Lunch by John Jamison instills a similarly disconcerting feeling. Bag lunches have a nostalgic feel for most people, recalling grade school lunch breaks with PB & Js, carrot sticks and a note from mom. This bag lunch consists of an apple core and a single slice of noticeably moldy bread contained in a paper bag that looks as if it was pulled from the trash instead of from a kitchen drawer. You feel as though you've gotten the short end of the carrot stick with this lunch. Even if you wanted an apple, there is none left, the bread is liable to make you sick and even if you did dare to eat your lunch, how can you sure the bag it came in isn't as dirty as a trash bin?
Paintbrush by Alyson Burns appears at first glace like a reasonable representation of a familiar object that almost everyone has handled at one point in time. A paintbrush it light to hold, but the gobs of paint it can soak up seemingly double the weight. When it is clean, the bristles are soft and pliable as your fingers run over them. This brush has jagged, pointed screws for bristles and the body is made of thick chunks of metal welded together. It doesn't seem able to paint a surface, only mar it.
Pointed Tea Party by Chelsea Pratt is, at a distance, appealing because of its sweet, child-sized scale, golden finish and the bright bouquet on the table. The two chairs are pulled out at an inviting angle, the table set for two, waiting for a pair of friends to enjoy a good conversation by the window. For me, the set up recalls childhood memories of playing "house" and forcing your brother or dad to drink tea with you and your teddy bear. As you get closer, part of the glitter of the gold surface is the tip of hundreds of up turned tacks. Every surface is unusable, the chairs are painful, the cups would poke your lips and there is no way you'd rest an elbow on the table. There will be no listless relaxation at this café.
These works shouldn't be seen as merely making light of the object they represents and the notions to which those objects are tied. Far from desiring to push the viewer into an uncomfortable zone, I'd like to put forth that these objects should challenge us in a more general way. If these normally comforting objects aren't as lovely as we feel they should be, does this mean that objects and ideas that are ordinarily disgusting or unsettling can be beautiful and engaging?
* This quote is from Alan Foljambe's article "Meret Oppenheim and Breakfast in Fur – Surrealism for Breakfast" in suite101.com's Modern Art History blog from April 30, 2010. Read the whole article here: www.tinyurl.com/Foljambe
The current exhibition is our annual juried student exhibition, Young Contemporaries. Here at the Halsey, we mainly focus on professional artists of national and international stature with a special focus on those that are on the outskirts of fame. We like to highlight under-recognized artists that deserve a darn good look.
Young Contemporaries is a great way to highlight some of the emerging talent at the College .. the next generation of art stars. This year was the biggest yet! We had 577 submissions for juror and painter Julie Heffernan to go through. In less than 48 hours, she picked what she felt were the strongest examples of contemporary painting, drawing, printmaking, sculpture, photograph and video works our student population had to offer. This, of course, means having to make some hard decisions – a lot of technically impressive pieces had to be released.
In the end, only 70 out of the 577 submissions were accepted. If you don't want to do the math in your head, that's only 12% – quite an achievement for those that made it into the show.
Then, it was time for the Studio Art Department to choose pieces for the accompanying exhibition, the Salon des Refusés. This exhibition is rooted in a famous exhibition in Paris in the early part of 1863. The Paris Salon juried artwork every year for an official exhibition. As early as the 1830s, Paris art galleries had mounted small-scale, private exhibitions of works rejected by the Salon jurors. Apparently in the 1863 iteration of the exhibition, an unusually high number of works and the artists began to riot. Many of them had been accepted to previous exhibitions and felt there was an unfair and oppressive theme required to be accepted. The Salon opposed the shift away from traditional painting styles. The artists caused such a stir that Emporer Napoléon III granted them their own exhibition, the Salon des Refusés. We chose to begin our own take on this famous exhibition by creating an exhibition from the "refused" works in the submissions. The student-run Visual Arts Club has taken this a step further and has curated an exhibition from the works that weren't chosen for either of these two exhibitions, the Salon des Refusés des Refusés.
This year, in total, 116 of the 577 works submitted for consideration were selected to exhibit in one of the three shows.
Young Contemporaries will open on Thursday, March 29th at 5pm and runs through April 28th. Don't forget that your group can take a guided tour of the exhibition – all you have to do it ask!
Hope to see you soon —
Lizz
This exhibition comprises sculpture, installation, paintings, drawings, and sketchbooks that chart Aggie Zed's unique working methods in a variety of media. Born in Charleston and raised among farm animals on Sullivan's Island, South Carolina, Zed graduated from the University of South Carolina with a BFA in painting and sculpture. Shortly thereafter, she moved to Richmond and, later, Gordonsville, Virginia, where she lives and works today.
Zed's studio practice is eclectic and varied. Often starting with images from her sketchbook, she may develop some of these concepts into paintings and others into sculptural tableaux or installations. Her subject matter is nothing less than the sum of human civilization, with an emphasis on our relationship to the animal kingdom. Human and animal figures collide with furniture or landscapes; rabbits sprout wheels or wings, while horses drown in collapsing scaffolding. Zed's dreamscape narratives probe the inner reaches of the subconscious mind.
Although Zed's work derives much of its meaning from literary associations, her imagery teems with invention and startling leaps of imagination. Her visual poetry conjures a world in which logic and rationality take a comfortable backseat. Human foibles and impulses are placed in the foreground. And even though she works in different media, her conceptual approach remains consistent throughout.
The paintings are rendered in mixed media on paper. They depict humans and/or animals, often located within a domestic space or farmyard. There may be references to dinosaurs seen from the windows or other anachronistic details. Mirrors, doorways, and framed artwork on the walls become portals to other realms. Animals play the role of participant observers to the human drama. They are depicted variously as companions, sages, sources of amusement, means of transportation, and foils to daily tasks.
The sculptural and installation works are complex tableaux that illuminate aspects of the human saga. Sculptural works that the artist calls "scrap floats" appear as if in some sort of cosmic procession, enacting scenes that are at once strange yet familiar. The collision of disparate materials and elements in these works mirrors the beauty and fragility of the human condition.
Derived from the title of one of the artist's works, Keeper's Keep alludes to British usage of the term "keeper" for "curator," and plays on the double meaning of "keep" as both noun and verb. Aggie Zed is a storyteller whose works take us out of our consensual reality and into a world filled with absurdity, ambiguity, and the gifts of artistic imagination. 
Mark Sloan
Keeper