PAST PRESS
Charleston City Paper
In a way, Charleston artist Ronald Ramsey and the late New York artist Anthony Dominguez are products of their respective cities. Dominguez, who preferred the term "houseless" instead of "homeless," created drawings and fabric designs inspired by his life on the streets that were alternately heartbreaking, nightmarish, and beautiful. One of his works might be an exaggerated, horrific portrait of a brutal police officer, or a jailed Statue of Liberty, or a lone skeleton watching the skies amid the columns of a building.
Ramsey, who refers to himself as a preservationist rather than an artist, creates delicate, intricately precise drawings of old, dilapidated buildings as they might have looked in their prime, using both his own vivid imagination and meticulous research. His father worked for the City of Charleston's Health Department, identifying buildings that were in substandard shape and needed to be torn down. That seems to be the root of Ramsey's other artistic passion, preserving and restoring architectural hallmarks of the past, like window latches or doorknobs.
Post & Courier
It's difficult at first to know what to make of it all. Ronald Wayne Ramsey is not your typical artist and not your typical preservationist.
Yet Ramsey, a small fellow with a round head, thinning hair, a big smile and a way of talking that can be hard to understand, has been obsessively documenting old Charleston buildings for decades, creating intricate drawings, collecting objects from the sites and assembling newspaper clippings and other written records of what has transpired within the city's landscape.
When all this material was brought to the attention of Mark Sloan, director of the Halsey Institute for Contemporary Art at the College of Charleston, he didn't quite know what he should do with it. When nearly two years ago he asked Ramsey's friends and advocates at Hines Studios on upper King Street to display some of Ramsey's vast collection of stuff in the shop so that it might be contemplated better, Sloan began to see the possibilities.
The Art Mag
The Halsey Institute of Contemporary Art at the College of Charleston presents a solo exhibition entitled EXIT/ALIVE: The Art of Anthony Dominguez. On view from January 20 – March 4, 2017, EXIT / ALIVE: The Art of Anthony Dominguez gathers a substantial body of art produced by Anthony Dominguez over 20 years leading up to his untimely death in 2014. Curated by guest curator Tom Patterson and conceived as a definitive overview, the exhibition brings together a representative sampling of works by this philosophically uncompromising, intentionally homeless artist, an idiosyncratic figure on the margins of society and the art world.
BURNAWAY
The French artist Christian Boltanski once said: "…you die twice. You die when you die, and you die a second time when someone picks up your photo and no one knows who you are." Canadian artist Sara Angelucci combines faith and science to create strange, hybrid creatures. The inspiration for Aviary, her latest series of photographs on view at the Halsey Institute of Contemporary Art through December 10, emerged when she was working on The Anonymous Chorus, a video installation based on a vintage photograph she purchased on eBay. She says she was saddened by the fact that photographs, which were once personally meaningful to and held dearly by someone, go anonymously into the world. She began to examine the impermanence of memory and lost identities, looking to Boltanski, whose work deals with loss, memory and death.
Post & Courier
SPARTANBURG — The housing project is abandoned now. Eleven two-story structures, each the same, form a square. They sit in the economically stressed Highland neighborhood of Spartanburg. In April they will be demolished.
Early last month, these buildings became part of an unusual art installation. To visit them now, just after the sun has set, is to witness a remarkable expression of civic pride.
Charleston City Paper
Situated in the heart of CofC's campus, on the corner of Calhoun and St. Philip streets, the Halsey Institute of Contemporary Art is somewhat of a hidden gem, albeit one that is hidden in plain sight. The exhibition space brings innovative contemporary art to the Charleston community — for free. This Friday, Oct. 21, yet another thought-provoking exhibition opens at the Halsey. It's a co-bill, featuring the separate works of Sara Angelucci and Peter Eudenbach.
When the Halsey has a show featuring multiple artists, there is usually a common theme, a thread that ties them together. The works of Angelucci and Eudenbach two artists are quite dissimilar at first glance. But as the Halsey's Director and Senior Curator says, "If there's anything I can say that joins the two of them, it's this absurdist sense and the idea that there is a kind of a logic at work."
National Endowment for the Arts
The NEA will release a report on September 19 called Creativity Connects: Trends and Conditions Affecting U.S. Artists. The report–developed with the Center for Cultural Innovation–looks broadly at the impact on artist careers of phenomenon such as the ever-increasing demands of technology, burdensome student debt, income instability, and the precariousness of the gig economy.
As a preview to the release of the report, we invited artists Fahamu Pecou and Maritza Mosquera to offer their thoughts on some of the trends and conditions affecting their careers. Pecou and Mosquera each participated in one of 10 roundtables convened around the country that together formed part of the research for the report.
Post & Courier
The Halsey Institute of Contemporary Art continues its path-breaking work with exhibitions featuring lesser-known artists who tend to insist on deep thought while provoking delight. Check out the current show, Fahamu Pecou's "Do or Die: Affect, Ritual, Resistance," an artist's attempt to "re-contextualize black life and death."
On Oct. 21, the Halsey presents the oddly wonderful images of Sara Angelucci that fuse human and aviary features. And watch Dave Brown's mesmerizing short film "Diary of Dust," which animates a 23-foot drawing by Indonesian artist Jumaadi (who was the Halsey's international artist in residence in the fall of 2014).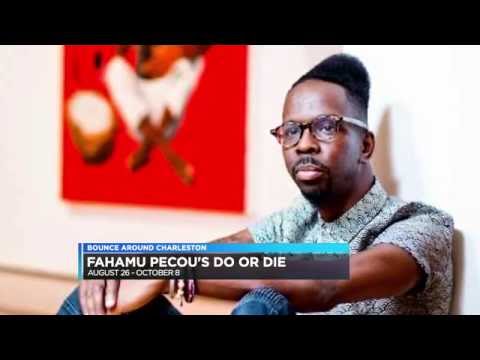 Mark Sloan, Director and Chief Curator at the Halsey Institute of Contemporary Art, and Angharad Chester-Jones, Manager of Regan Communications Group Charleston join Randolph Miller on Bounce TV Charleston to discuss Fahamu Pecou's exhibition DO or DIE: Affect, Ritual, Resistance and the interSessions: The Art X Hip Hop Dialogue featuring Killer Mike and Dr. Arturo Lindsay.
Creative Loafing
The message just came "one day out of the blue," Fahamu Pecou says.
He wasn't expecting anything from South Carolina. Upon opening the package that had arrived at his home, he found a Sunday newspaper, Charleston's Post and Courier, staring back at him. Splattered across the front page was the story of Walter Scott. Pecou didn't need to read it to familiarize himself with the case of the unarmed black man shot in the back while fleeing a North Charleston police officer. Like so many before, this death had gone viral due to the video secretly recorded by an eyewitness whose footage refuted the officer's version of events. Instead, the message scribbled on the yellow sticky note attached to the front page begged the Atlanta-based visual artist's attention.
"It's time for you," it read.