PAST PRESS
Charleston City Paper
Situated in the heart of CofC's campus, on the corner of Calhoun and St. Philip streets, the Halsey Institute of Contemporary Art is somewhat of a hidden gem, albeit one that is hidden in plain sight. The exhibition space brings innovative contemporary art to the Charleston community — for free. This Friday, Oct. 21, yet another thought-provoking exhibition opens at the Halsey. It's a co-bill, featuring the separate works of Sara Angelucci and Peter Eudenbach.
When the Halsey has a show featuring multiple artists, there is usually a common theme, a thread that ties them together. The works of Angelucci and Eudenbach two artists are quite dissimilar at first glance. But as the Halsey's Director and Senior Curator says, "If there's anything I can say that joins the two of them, it's this absurdist sense and the idea that there is a kind of a logic at work."
National Endowment for the Arts
The NEA will release a report on September 19 called Creativity Connects: Trends and Conditions Affecting U.S. Artists. The report–developed with the Center for Cultural Innovation–looks broadly at the impact on artist careers of phenomenon such as the ever-increasing demands of technology, burdensome student debt, income instability, and the precariousness of the gig economy.
As a preview to the release of the report, we invited artists Fahamu Pecou and Maritza Mosquera to offer their thoughts on some of the trends and conditions affecting their careers. Pecou and Mosquera each participated in one of 10 roundtables convened around the country that together formed part of the research for the report.
Post & Courier
The Halsey Institute of Contemporary Art continues its path-breaking work with exhibitions featuring lesser-known artists who tend to insist on deep thought while provoking delight. Check out the current show, Fahamu Pecou's "Do or Die: Affect, Ritual, Resistance," an artist's attempt to "re-contextualize black life and death."
On Oct. 21, the Halsey presents the oddly wonderful images of Sara Angelucci that fuse human and aviary features. And watch Dave Brown's mesmerizing short film "Diary of Dust," which animates a 23-foot drawing by Indonesian artist Jumaadi (who was the Halsey's international artist in residence in the fall of 2014).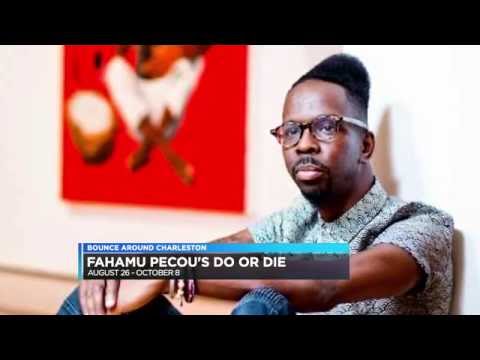 Mark Sloan, Director and Chief Curator at the Halsey Institute of Contemporary Art, and Angharad Chester-Jones, Manager of Regan Communications Group Charleston join Randolph Miller on Bounce TV Charleston to discuss Fahamu Pecou's exhibition DO or DIE: Affect, Ritual, Resistance and the interSessions: The Art X Hip Hop Dialogue featuring Killer Mike and Dr. Arturo Lindsay.
Creative Loafing
The message just came "one day out of the blue," Fahamu Pecou says.
He wasn't expecting anything from South Carolina. Upon opening the package that had arrived at his home, he found a Sunday newspaper, Charleston's Post and Courier, staring back at him. Splattered across the front page was the story of Walter Scott. Pecou didn't need to read it to familiarize himself with the case of the unarmed black man shot in the back while fleeing a North Charleston police officer. Like so many before, this death had gone viral due to the video secretly recorded by an eyewitness whose footage refuted the officer's version of events. Instead, the message scribbled on the yellow sticky note attached to the front page begged the Atlanta-based visual artist's attention.
"It's time for you," it read.
Charleston City Paper
In a July op-ed for ArtsATL, a nonprofit publication in Atlanta, visual artist Fahamu Pecou wrote a column titled, "Art Will Tell." In it he talks about the origins of his Halsey exhibition, DO or DIE: Affect, Ritual, Resistance, which opens this weekend. "One day in April 2015," he writes, "I came home to a package in the mail. The sender was the Halsey Institute of Contemporary Art in Charleston, South Carolina." Mark Soan, Halsey's director, had sent Pecou a P&C story about the murder of Walter Scott. He attached a note to the article, "It's Time For You."
Pecou, an African-American painter and multi-media artist, creates contemporary works that address society's representation of black males, while utilizing traditional themes of Yoruba and Ifa, West African religious practices. Many of Pecou's pieces are images of himself, a character he calls Fahamu Pecou is The Shit. In a piece titled "Native Tongue," Pecou is in profile, wearing slouching jeans and no shirt, a traditional Yoruba mask atop his head. Other pieces, like "Something Eternal," show a man with a covered face kneeling before a woman's naked body, whose black skin is speckled with what appear to be gold flakes, but could just be Vitiligo, a skin condition that causes depigmentation in skin.
The Post and Courier
Fahamu Pecou is an Atlanta-based artist who explores the topic of black masculinity, its expression by African Americans and its portrayal in the public sphere.
He approaches the issue mostly through visual art, but he also loves music, photography, video and other media, which he uses liberally in an effort to enhance the significance of his art exhibits.
His big conceit is the creation of a persona, "Fahamu Pecou is the Sh*t." This character frees him to express a plethora of profound ideas about popular culture, consumerism, spirituality, identity and more.
BurnAway
Erwin Redl's Ascension (circle 24) is a fountain of Ping Pong balls. In his recent show "Rational Exuberance," a circle of 24 glass tubes hung from the ceiling of the gallery, and each tube contained a ball dramatically lit with LED lights. A fan at the bottom of each tube caused the balls to rise and clink against the glass. When they fell, we heard the low sound of a timpani. The movement and the sounds set up a regular rhythm like breathing (watch another piece in the series here). Sometimes they rose in unison. Sometimes one by one. Sometimes they rise a little bit, then go halfway up the tube, then ¾ up, and finally reach the top. But they never quite match up. One ball is usually a little behind, while others might rise in perfect lockstep.
WABE Atlanta's NPR Station
Fahamu Pecou joined Lois Reitzes, with Atlanta NPR affiliate WABE, for a conversation on the intersection of art and activism, the philosophies behind his work, and his upcoming exhibition at the Halsey Institute DO or DIE: Affect, Ritual, Resistance opening August 26th.
Charleston City Paper
Earlier today, I took a walk through downtown for a Spoleto dry run when I dropped in the Halsey to see Redl's LED installation. While I could go into more detail about the overall exhibit, I just don't feel any of that's necessary, particularly when talking about the individual pieces with any degree of weight is to impart unnecessary meaning to what is little more than a couple of delightful doohickies and a few tapestries.