PAST PRESS
BURNAWAY
The French artist Christian Boltanski once said: "…you die twice. You die when you die, and you die a second time when someone picks up your photo and no one knows who you are." Canadian artist Sara Angelucci combines faith and science to create strange, hybrid creatures. The inspiration for Aviary, her latest series of photographs on view at the Halsey Institute of Contemporary Art through December 10, emerged when she was working on The Anonymous Chorus, a video installation based on a vintage photograph she purchased on eBay. She says she was saddened by the fact that photographs, which were once personally meaningful to and held dearly by someone, go anonymously into the world. She began to examine the impermanence of memory and lost identities, looking to Boltanski, whose work deals with loss, memory and death.
Post & Courier
SPARTANBURG — The housing project is abandoned now. Eleven two-story structures, each the same, form a square. They sit in the economically stressed Highland neighborhood of Spartanburg. In April they will be demolished.
Early last month, these buildings became part of an unusual art installation. To visit them now, just after the sun has set, is to witness a remarkable expression of civic pride.
Charleston City Paper
Situated in the heart of CofC's campus, on the corner of Calhoun and St. Philip streets, the Halsey Institute of Contemporary Art is somewhat of a hidden gem, albeit one that is hidden in plain sight. The exhibition space brings innovative contemporary art to the Charleston community — for free. This Friday, Oct. 21, yet another thought-provoking exhibition opens at the Halsey. It's a co-bill, featuring the separate works of Sara Angelucci and Peter Eudenbach.
When the Halsey has a show featuring multiple artists, there is usually a common theme, a thread that ties them together. The works of Angelucci and Eudenbach two artists are quite dissimilar at first glance. But as the Halsey's Director and Senior Curator says, "If there's anything I can say that joins the two of them, it's this absurdist sense and the idea that there is a kind of a logic at work."
National Endowment for the Arts
The NEA will release a report on September 19 called Creativity Connects: Trends and Conditions Affecting U.S. Artists. The report–developed with the Center for Cultural Innovation–looks broadly at the impact on artist careers of phenomenon such as the ever-increasing demands of technology, burdensome student debt, income instability, and the precariousness of the gig economy.
As a preview to the release of the report, we invited artists Fahamu Pecou and Maritza Mosquera to offer their thoughts on some of the trends and conditions affecting their careers. Pecou and Mosquera each participated in one of 10 roundtables convened around the country that together formed part of the research for the report.
Post & Courier
The Halsey Institute of Contemporary Art continues its path-breaking work with exhibitions featuring lesser-known artists who tend to insist on deep thought while provoking delight. Check out the current show, Fahamu Pecou's "Do or Die: Affect, Ritual, Resistance," an artist's attempt to "re-contextualize black life and death."
On Oct. 21, the Halsey presents the oddly wonderful images of Sara Angelucci that fuse human and aviary features. And watch Dave Brown's mesmerizing short film "Diary of Dust," which animates a 23-foot drawing by Indonesian artist Jumaadi (who was the Halsey's international artist in residence in the fall of 2014).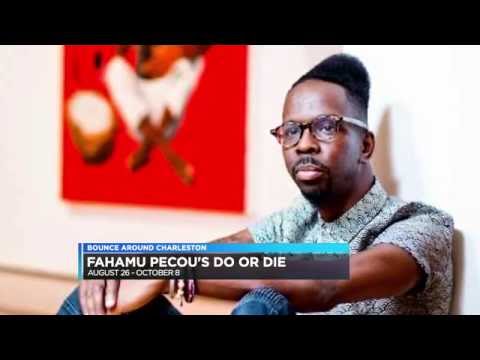 Mark Sloan, Director and Chief Curator at the Halsey Institute of Contemporary Art, and Angharad Chester-Jones, Manager of Regan Communications Group Charleston join Randolph Miller on Bounce TV Charleston to discuss Fahamu Pecou's exhibition DO or DIE: Affect, Ritual, Resistance and the interSessions: The Art X Hip Hop Dialogue featuring Killer Mike and Dr. Arturo Lindsay.
Creative Loafing
The message just came "one day out of the blue," Fahamu Pecou says.
He wasn't expecting anything from South Carolina. Upon opening the package that had arrived at his home, he found a Sunday newspaper, Charleston's Post and Courier, staring back at him. Splattered across the front page was the story of Walter Scott. Pecou didn't need to read it to familiarize himself with the case of the unarmed black man shot in the back while fleeing a North Charleston police officer. Like so many before, this death had gone viral due to the video secretly recorded by an eyewitness whose footage refuted the officer's version of events. Instead, the message scribbled on the yellow sticky note attached to the front page begged the Atlanta-based visual artist's attention.
"It's time for you," it read.
Charleston City Paper
In a July op-ed for ArtsATL, a nonprofit publication in Atlanta, visual artist Fahamu Pecou wrote a column titled, "Art Will Tell." In it he talks about the origins of his Halsey exhibition, DO or DIE: Affect, Ritual, Resistance, which opens this weekend. "One day in April 2015," he writes, "I came home to a package in the mail. The sender was the Halsey Institute of Contemporary Art in Charleston, South Carolina." Mark Soan, Halsey's director, had sent Pecou a P&C story about the murder of Walter Scott. He attached a note to the article, "It's Time For You."
Pecou, an African-American painter and multi-media artist, creates contemporary works that address society's representation of black males, while utilizing traditional themes of Yoruba and Ifa, West African religious practices. Many of Pecou's pieces are images of himself, a character he calls Fahamu Pecou is The Shit. In a piece titled "Native Tongue," Pecou is in profile, wearing slouching jeans and no shirt, a traditional Yoruba mask atop his head. Other pieces, like "Something Eternal," show a man with a covered face kneeling before a woman's naked body, whose black skin is speckled with what appear to be gold flakes, but could just be Vitiligo, a skin condition that causes depigmentation in skin.
The Post and Courier
Fahamu Pecou is an Atlanta-based artist who explores the topic of black masculinity, its expression by African Americans and its portrayal in the public sphere.
He approaches the issue mostly through visual art, but he also loves music, photography, video and other media, which he uses liberally in an effort to enhance the significance of his art exhibits.
His big conceit is the creation of a persona, "Fahamu Pecou is the Sh*t." This character frees him to express a plethora of profound ideas about popular culture, consumerism, spirituality, identity and more.
BurnAway
Erwin Redl's Ascension (circle 24) is a fountain of Ping Pong balls. In his recent show "Rational Exuberance," a circle of 24 glass tubes hung from the ceiling of the gallery, and each tube contained a ball dramatically lit with LED lights. A fan at the bottom of each tube caused the balls to rise and clink against the glass. When they fell, we heard the low sound of a timpani. The movement and the sounds set up a regular rhythm like breathing (watch another piece in the series here). Sometimes they rose in unison. Sometimes one by one. Sometimes they rise a little bit, then go halfway up the tube, then ¾ up, and finally reach the top. But they never quite match up. One ball is usually a little behind, while others might rise in perfect lockstep.
WABE Atlanta's NPR Station
Fahamu Pecou joined Lois Reitzes, with Atlanta NPR affiliate WABE, for a conversation on the intersection of art and activism, the philosophies behind his work, and his upcoming exhibition at the Halsey Institute DO or DIE: Affect, Ritual, Resistance opening August 26th.
Charleston City Paper
Earlier today, I took a walk through downtown for a Spoleto dry run when I dropped in the Halsey to see Redl's LED installation. While I could go into more detail about the overall exhibit, I just don't feel any of that's necessary, particularly when talking about the individual pieces with any degree of weight is to impart unnecessary meaning to what is little more than a couple of delightful doohickies and a few tapestries.
South Carolina Public Radio
Erwin Redl investigates the process of "reverse engineering" by (re-)translating the abstract aesthetical language of virtual reality and 3D computer modeling into architectural environments by means of large-scale light installations. In his current show at the Halsey Institute, his work displays strict methodologies which employ binary logic as well as tropes of minimalism to exuberant extremes. As demonstrated in his light installations and most recent kinetic works, a very restrained vocabulary due to the scale, repetition, and variations leads to a sense of deep corporeality. 
The Post and Courier
If you're not familiar with the concept of correspondence art, you're not alone. In a time when the handwritten letter is almost extinct, the notion of turning mail into art seems like a far-fetched one. But, as a subject, it is truly fascinating and offers a glimpse into the working mindset of long-form correspondence and the artistic process.
Charleston City Paper
Mark Sloan was first introduced to Erwin Redl when the artist was chosen to work on Seeing Spartanburg in a New Light, a public art project in the conservative heart of the Upstate that the Halsey director was working with. Redl collaborated with the city to design and develop LED light installations which would not only help beautify the city but create safer, more vibrant neighborhoods. Although Sloan was already aware of Redl's work when they met, the encounter ultimately led to Redl's latest installation Rational Exuberance, which opens this week at the Halsey.
Charleston City Paper
Art-making is not a particularly reliable career. Even the most talented painters and sculptors often will struggle to earn a living wage. But certain factors increase the odds of success, especially good teachers, advocates and opportunities.
The annual Young Contemporaries show mounted by the Halsey Institute of Contemporary Art provides one such opportunity. And for some College of Charleston studio art students, it has paid off.
The Washington Post
Washington artist Renee Stout contains multitudes. She makes paintings, sculptures, photographs and mixed-media pieces and roams the mystical terrain where African gods meld with Christian saints. Sometimes she even becomes a different person altogether — "hoodoo" woman Fatima Mayfield, who deals in potions and predictions.
Charleston City Paper
I was recently commiserating with my friend Erin Bennett Banks, local illustrator and creative director at the Gibbes Museum of Art, about the fact that there's never enough time outside of work and family to spend on our own creative endeavors. I need more time to finish my book — she needs more time to work on her design projects. We fantasized about how great it would be to participate in a residency program. "Just imagine," I said, 'what could be accomplished with endless, uninterrupted hours to submerge ourselves in art.'
Thankfully, some lucky souls actually get that chance, thanks to the handful of artist-in-residence programs in town.
If you're a visual artist in Charleston, you have at least five opportunities. Residencies are available through the Halsey Institute of Contemporary Art, Redux Contemporary Art Center, Robert Lange Studios, and The Vendue, and when the Gibbes Museum reopens this spring, it will have both short- and long-term artists in residence in their studio space on the first floor.
Charleston Scene
Look out, Valentine's Day. There's a new holiday tradition in town that just might overshadow the fancy dinners and pink-hued candies that typically get all the attention in February.
The Groundhog Day Concert at the Charleston Music Hall reaches its fourth installment Saturday, solidifying itself as the reason to look forward to an otherwise unremarkable holiday in Charleston. Featuring an all-star cast of local musicians who don't often find the time or opportunities to play together, the performance is essentially a pu-pu platter of Charleston's diverse music scene.
Charleston City Paper
http://www.charlestoncitypaper.com/charleston/groundhog-day-concert-performers-reveal-the-shows-theyd-relive-if-they-could/Content?oid=5720996Ever been to a show you'd love to experience on repeat? That's what the Groundhog Day Concert is like, which makes its title a fitting one. When the who's who of Holy City musicians gather on the Charleston Music Hall Stage, magic happens — and that's why the Groundhog Day Concert has become one of the local music scene's most anticipated events of the year.
The Hub
The Halsey Institute of Contemporary Art, located in Charleston, S.C., received a South Carolina Arts Commission Arts Education Project grant to help support this exhibition.
"You've got mail" has different meanings, depending upon one's age and current communications style.  The Halsey Institute's exhibition, Correspondence Art: Words, Objects, and Images by Ray Johnson, Richard C., and Bob Ray, will appeal to those nostalgic for a time when keeping in touch could mean waiting a day or more for letter delivery, while also introducing the concept of creating and mailing art to young people accustomed to reaching their friends instantly via text.
Charleston Scene
For John McWilliams, the act of creating woodblock prints is monastic. "One mark leads to another and the piece just evolves. You never know where it will take you. I work under the premise that there's no such thing as a mistake."